The Formula One is all set to make its mark on the Indian sub-continent with its second edition in Indian Grand Prix at Buddh International Circuit, Greater Noida. As it's an all new sport, there is energy, euphoria, and curiosity sweeping through us all. Formula One is such a rare exciting mix of sport, adrenaline and glamour that one just can't be anything but mesmerized by it. Though television coverage is getting better, with HD facility and what not, the sports fan could hardly choose a better vantage point than the comfort of his couch. Yet, there is a deeper significance to being at a sporting event craning your neck, standing on your toes to catch a glimpse of your favourite stars in action.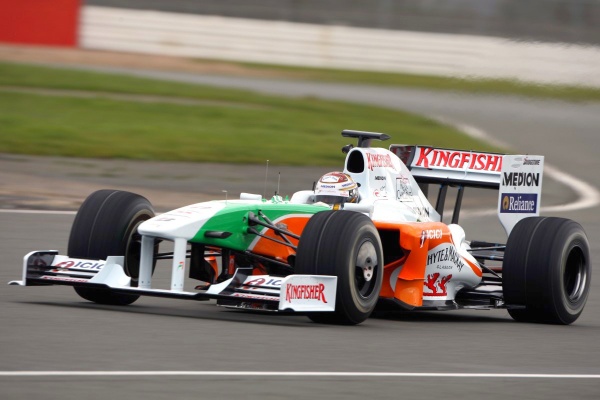 The second edition of the Indian GP holds many thrills. Right at the top is that sizzling battle for the drivers' championship between Fernando Alonso and Sebastian Vettel. Secondly, there's an Indian Team participating. And thirdly, Michael Schumacher will race an F1 car in India for the last time, that gives us a chance to say 'Thank you' and 'Well done' to a man who single-handedly brought scores of Indian fans to motorsports.
Though a question arises- Is Force India, really an Indian team for which an Indian spectator must cheer for? The desi viewer shall really get excited for a driver or a team that flies a tricolor  But as far as Vijay Mallya is concerned, he doubts their capabilities and is yet to employ an Indian driver for Force India. But who is to say whether Narain could not do as good a job as Nico Hulkenberg and Paul di Resta? We never know such things in F1 unless have tried them. It's not true that all the teams are staffed with only Britishmen. F1 is a world where nationality is just not important. Ferrari's chief designer is Greek, Sauber's chief aerodynamicist is an Australian Dutchman, the CEOs of Lotus and Caterham are both French. The language spoken in the racing department at Ferrari is English.
Thus, one can also argue, with conviction, that Monisha Kaltenborn, the team principal of Sauber, is a much better indication of how an Indian can be successful in F1. Survival of the fittest is the rule of the F1 world. Now as the event is all set to rock the floor with all cars ready to screech their tyres on the circuit, lets get pumping up our adrenaline levels with the promise of thrill.