Tigmanshu Dhulia is among the latest crop of brilliant directors who surrendered their brilliance to public demands. Peer pressure can be a bitch. The National award winning director tries to pull off a Jean-Claude Van Damme splitting between a script-Volvo and a commercial-Volvo, but ends up like Ajay Devgn bruising his nether regions in this video. And that's seriously sad, as a lot on the script side gets damaged.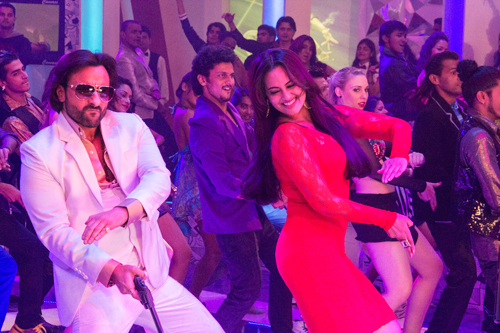 Bullett Raja is a big disappointment coming out of Dhulia's stable, that has dished out awesome in small-budget films like Haasil and Paan Singh Tomar in the past. Raja Misra (Saif Ali Khan) befriends Rudra (Jimmy Sheirgill) and saves his uncle (Sharat Saxena) from Lallan Tiwari (Chunkey Pande). Pretty soon Raja and Rudra emerge as the Jai-Veeru of Uttar Pradesh, seek protection in jail where they befriend the influential Srivastav (Vipin sharma) who encourages them to become 'political commandos' of the chaired local minister Ram Babu (Raj Babbar). Once the duo get down this road, politics, business and personal agenda gets Rudra killed, and how Raja avenges the death of his dear friend forms the unintresting remainder of the story.
Just the characters could have driven this film home, they were so splendidly detailed, but the director doesn't explore any individual character's potential thoroughly. Take Ravi Kishan for example- this actor is brilliant in the role tailored for him, but the limited footage and dialogues curtail the power of his performance. Jimmy Sheirgill and Sharat Saxena deliver natural, and their UP-accent has been worked up real good. Vidyut Jamval springs up in the last thirty odd minutes or so, but that's just enough time for him to make an impression. Moving towards Sonakshi Sinha- this girl has shown immense authority in the roles where she falls in love with 'cheesy' in a matter of minutes, and gives up all her dream to live his (keep Lootera aside, and in every other single flick you'll see her executing her expertise). Saif Ali Khan does good, and comes across as a typical country-guy (sans his bare chest, but well) in all his earthly local body-language. Intensity fails him at time, but otherwise he's okay.
The music is below average, like most of the other albums which've released in the past four months. Discomforting noise, them all. Tamanche pe Disco and Don't touch my body are just crowd-pullers. Not much can be appreciated on the technical front, and both the writing and editing segment could've been assigned to better hands. A little more inclination towards the political shades would've made the script much more interesting, but the ego-revenge angle had to screw everything up. There's also a "Maharashtrians in UP" dialogue that is just a blank shot at kindling patriotism.
With Tigmanshu Dhulia, I was expecting a commercial equal in ranks to Anurag Kashyap's Gangs of Wasseypur, but Bullett Raja misses the mark by a huge margin. I won't recommend it a see.
Overall Rating: 2/5