Bose in its latest musical offering 'SoundTouch series' has leveled awesome, and the sound and audio company has beautifully incorporated locally stored music content, Web-radio and one-touch access into its latest line of Wi-Fi speakers. SoundTouch series employs Wi-Fi to stream music via the Internet, and the music can be played onto any device having Bose's SoundTouch app.The app includes six quick slots which stores your most frequented radio stations, playlists, artists, albums and songs. Each slot functions as a button on the speaker itself, and once the settings have been made, you can access that content simply by pressing the button on the speaker. This makes for a one-touch access, terminating the need of using a smartphone or a tablet.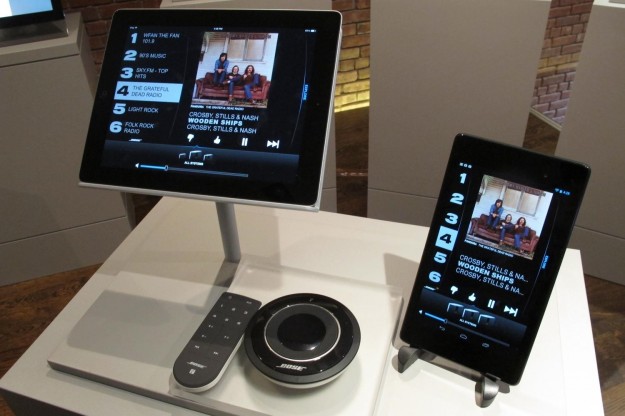 Bose's latest environment comes to life in three variants- the SoundTouch 30 Wi-Fi, SoundTouch 20 Wi-Fi, and SoundTouch Portable Wi-Fi.While the first two speakers, SoundTouch 20 and 30, are single-speaker sound systems having SoundTouch Wi-Fi support and AirPlay compatibility, the SoundTouch Portable Wi-Fi is a smaller variant that includes a rechargeable battery so that it can be moved anywhere across the house. The system works by using the OS X, iOS, Windows or Android app as a remote control to a SoundTouch speaker, or program it for a later use. The app can play music stored in the smartphone or tablet running it, and shall be able to access Pandora along with 1000 other Internet radio stations at launch itself. More online music services shall be gradually provided. Like a majority of the existing wireless multi-room systems, SoundTouch plays music across several speakers in the house, via the Wi-Fi network that connects them all from the device containing the app. SoundTouch in many ways imitates Apple's AirPlay, and offers additional convenience absent in most networked speakers.
Bose in its offer also includes the SoundTouch controller that functions with any and every SoundTouch system. Circular in design, it has a volume dial and a proximity sensor. Every needed functionality and information is synced with the controller, including the OLED preset view. This controller can now be placed around like any regular remote control, or can be placed on a wall using a bracket. At present SoundTouch does not enjoy Spotify support, but shall function with older Bose creations when connected via an amp adapter that's due for launch in 2014.
Bose SoundTouch could be bought from Indian markets coming November, where the systems could be availed at the prices of Rs. 52,763 (SoundTouch 30), Rs 32,512 (SoundTouch 20) and Rs 32,512 (SoundTouch Portable Wi-Fi). Keep watching thus space for more information on Bose SoundTouch system.