If you are tired of watching the same old clichéd films and if you have longed for a pure cinematic experience, then Alejandro Inarritu's Birdman is the right pick for you. Here is a classic which is not only refreshingly new, but is also a brilliant film in its own entity and it will make you wonder about the film going experience. In fact, it would be a mistake to call it an escape from the plethora of formula films that are there in the offing. This is because it stands out on its own and places itself amongst the all-time greats in film history.
Birdman is daring and a bold cinematic experiment which marks the new beginning of an old filmmaking style, the satirical dramedy. This film presents itself as an outright drama but at the same time it is cathartic, comical and hilarious. It plays with the audience and raises broader questions on the very nature of relationship between filmmaking and art. Is our criteria of handpicking films to watch totally dependent on critical reviews? Is filmmaking more to do with mass production and less to do with art? Is it all a marketing gimmick or has it anything material to offer? Are we totally swept away by the various franchises just because it is the in thing and just because my friends are watching it? This film questions the very foundation of filmmaking and film going experience.
The writing is top-notch and the number of layers this film has been able to blend in it is commendable. It has something for all age groups and every intellect levels. The story has its own charm which progresses organically and slowly grows on the audience, yet it is self-aware and mocks the very basis of a conventional three act structure. And, the layers of subtext adds meaning for the audience who are looking for one. Mainly, it takes a dig on Michael Bay quite a few times; ridicules the superhero genre; slams the trend of Hollywood franchises; and buries the marketing trends in social media.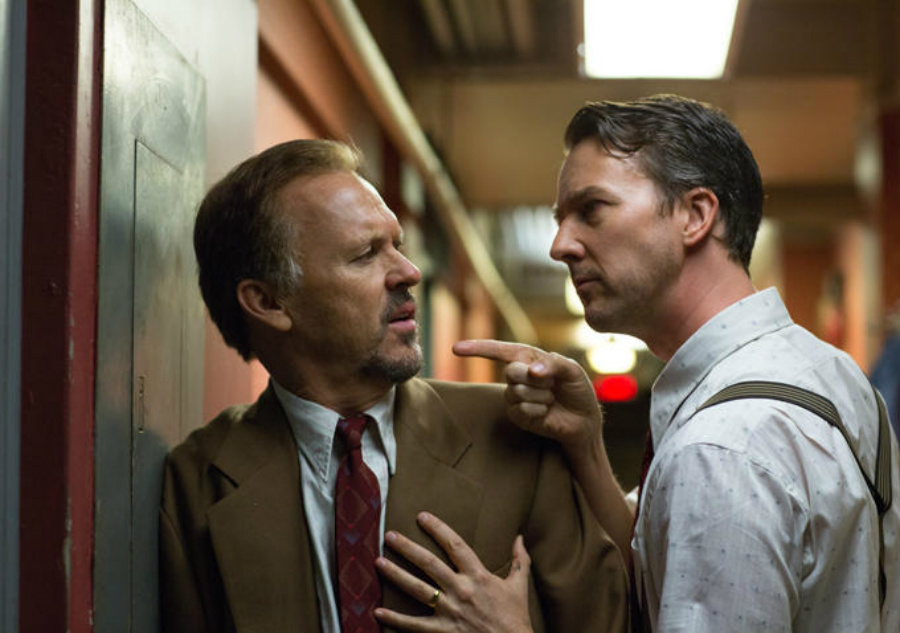 Most of the film is driven by character motivations and it is reminiscent of Hitchcock's Rope in terms of its writing, style, direction and a hidden higher connotation, just that it is a lot more fun. But at the same time it is engaging enough to keep you wanting for more. There are plenty of twists and turn, and it keeps the audience guessing with its bag full of surprises. There's one thing you can be rest assured, for it is unpredictable from the word go.
The characters are well drawn and you know their backstories, goals, issues and ambitions from the moment you meet them. We follow the journey of the protagonist Riggan (Micheal Keaton), a washed up artist who is desperate to make a name for himself in the world of art. It is immediately revealed that he was once a popular superhero in a bird suit and no longer has the desire to be a part of any franchise. The casting is perfect as it holds true for Keaton in his real life too. Remember, he played Batman twice and is now a washed up actor himself looking for elusive artistic break (pre-Birdman nomination). Emma Stone's personal life reflects on her character as well with her drug issues and someone who has spent her time in a rehab. Edward Norton is the over the top actor who goes into a god mode while acting. We can truly say about him and this film that 'life imitates art'.
The beauty about this film is how everything has been pieced together, backed up with stellar performances that make these pieces shine out even more. None better than Keaton, Norton and Stone who deserve an Oscar for their respective roles, but it does not take anything away from other good performances. Emma Stone in particular was flawless and she literally blows you away with her acting. And, words amount to a little when talking about Keaton's acting skills; this was certainly his Magnum Opus.
Another aspect of this film which leaves you speechless is Emmanuelle Lubinski's cinematography. It is beautiful and right up there with Tree of Life and Gravity. However, this time round it was his minimalist approach that is worth noticing. The lighting blends with the surroundings and gives the film a very realistic feel. To make it even more realistic this film was shot in such a way that it gives the impression of a single long take, though it has been shot in parts. It engages the audience furthermore when the action unfolds with the moving camera. Lubinski's choice of using an ultra-wide lens for a dramatic scene involving Emma Stone was so apt when it brings out the distortion of relationship with her father. Truly masterclass.
Inarritu has also redefined filmmaking with his choice of music and it does come out like a musical film at times. Especially, when the music reinforces the action of the long takes it brings out goose pimples when it builds up. It fills up the film with an extra punch of energy. It stays in unity and your musical ride starts from the very title sequence of the film. Indeed, a very unique approach with sound and whole film feels like a roller coaster ride because of it.
However, like every film it has its flaws too. It wasn't really necessary to make this film seem like a single long take, especially when we know that it was not. The long take looks forced and takes away from the reality of the film rather. It does come out as a gimmick; a spectacular trick which the very foundation of this film is against. If this film mocks the Hollywood process of filmmaking all the way then bumps like these become self-contradictory. It could have been better done with shorter long takes like Children of Men which at least appears to be realistic. Also, forcibly joining the disjointed scenes hits the eye and acts like a jump in a smooth flow. Time lapses, fades and other transitions are sometimes noticeable.
Again, Riggan having telekinetic powers was absolutely not required in this film. It leaves the audience with more questions than answers. But, if you look at the overall value of this film these are very minor inconsistencies and they may be disregarded. This film will be remembered as a cult even if it wins an Oscar for the best film; which is unlikely because it contains strong anti-Hollywood sentiments. It is a once in a lifetime film and watching it twice is highly recommended. So, go ahead and watch it while it lasts. Let your inner superhero bird quote the Birdman "Yeaaahhhh", nevermore.
Overall Rating- 4.75/5