This is one of those rare books which is oddly satisfying and unputdownable, even though at times one may feel – what's the point of this story at all? And yet, the next moment comes a sentence, a phrase or a dialogue that simply devours you in its narrative. That's the kind of books Chitra Banerjee Divakaruni writes. Stories that have a soul. Stories that weave a beautiful fabric, the one you touch and know that each of those threads were woven with care. Stories that could be happening in your friendly neighborhood, but still feel out of this world. The author's latest book Before We Visit The Goddess is no different.
It's a story of three women belonging to three consecutive generations, who affect each other's lives profoundly, sometimes even without realizing. The three women are a grandmother, a daughter and a granddaughter. The book explores the complex relationship between mothers and daughters and gives us a glimpse at what goes on inside that delicate relationship. In fact, the book turns out to be a real success at showing us the realistic side of the kinship. The beautiful yet damaged, sweet-sour-bitter bonds of love, care, distress and agony that a mother and a daughter share.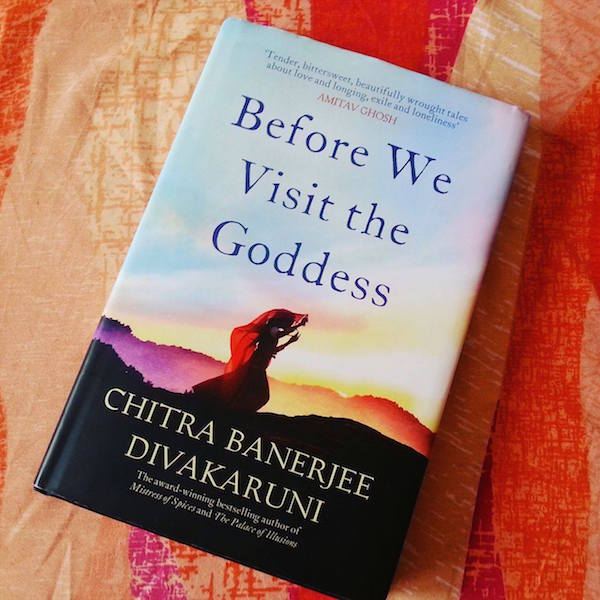 Coming to the story: The eldest one, Sabitri is the daughter of a poor baker in rural Bengal, India, who is poised about making her mark and she knows that it's possible only through educating herself. Sent off to live in a rich house where she could stay and complete her studies, Sabitri finds herself in a mess when she is caught in a misstep. Driven out of the house, she finds her own path and is gifted with a daughter – Bela. That blast from the past however haunts her and makes her relationship with her daughter restrained and unknowingly she drives Bela so far away from her that Bela ends up running away with the love of her life to USA. In a foreign country, among strangers, though Bela finds love, but life turns out to be completely different than what she was imagining. A failed marriage and many lessons learnt later, Bela finds that her own daughter Tara has been imprinted with many scars left by her mother. She too now must chart her own territory and learn life's lessons about love, freedom, coping with heartbreak and facing harsh realities in due time.
In this story that sounds like it's just another neighborhood tale of a family in distress, the author takes you from a village in Bengal to the lifestyle of the middle class in Houston, Texas. The masterfully woven account unfolds one chapter at a time from the points of view of three daughters who are both poised and worn out because of their ambitions and in their search of true love.
Putting you in the minds of the three leading ladies in the book, Chitra Divakaruni Banerjee is super successful in painting a picture so real, that it speaks out to you and makes you wonder about the peculiarities of life that seep into our existence everyday and change our lives forever.
This story becomes extraordinary because of the depth given to every character, be it the men who are largely working in the background, but who give the tale sharp angles to turn. Even their side of the coin is introduced, something that I really enjoyed reading. The skipping of time periods, the witty phrases encased with care amidst the short conversations, how all the three stories merge into one neatly towards the end – are all the points that worked wonders for me in this book.
If there's one thing I am still clueless about, it's the name of the book. Though there's a whole chapter dedicated to that book title, I still am not sure how it justifies as the crux of the tale so as to be given that kind of importance. Am I really missing a big metaphor here? Also, since most of the story happens either in Kolkata or in America, why does the cover feature a lady running in what looks like a Rajasthani desert? – is something I couldn't decipher.
The major highlight of the book is its ending that overpowers any other shortcomings that you may encounter while shuffling through the pages. I mean it. That said, having read only a couple of books from the author (The Palace of Illusions being one of my all time favorites), I think Before We Visit The Goddess has already forced me to go and check out all her other works.
Overall Rating: 4/5
You may purchase the book here –

 and here –
Subscribe To Indian Nerve