The thing with 'simple' is, the more that comes your way, the better you feel. Same follows for 'charm'. And Anurag Basu's Barfi! makes sure that it has enough of these elements to entertain us throughout the entire length of the movie. A couple characters in the film suffer from disabilities, but that's just a tiny part of a story that's concerned more with the 'life as they know it' part instead of 'let's sit down and sympathize'. And life, as they know it, has complexities which could be looked over simply by brimming up with charm and laughing away all the problems. Yes, the story recharges your batteries of optimism. Life indeed is beautiful.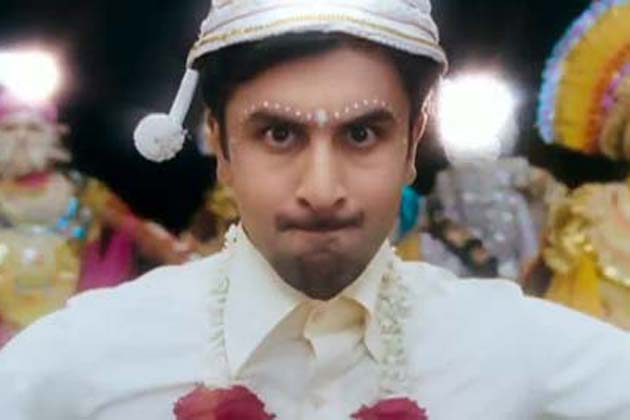 The story begins with an old man on his deathbed with his tragically comic story being told in flashback mode where we reach the era of 1970s. Barfi (Ranbir Kapoor), real name Murphy, grows up in the attractively quaint town of Darjeeling, where he falls in love with a tourist Shruti (Ileana DCruz), but is heartbroken when the poor-boy-rich-girl love doesn't materialize. He then moulds another sweet relationship with his childhood friend Jhilmil (Priyanka Chopra), who's autistic. Whether or not they then make a pair, that's for you to see. The story keeps shifting between various time zones and through various sub-plots, but is beautifully stitched together to keep the element of surprise alive at all times.
Performance wise, Ranbir Kapoor as Murphy is charming, cheerful and lively, and has total control of your emotions as he makes you laugh/cry. There's a dash of Chaplin to his role, which he has carried out exceptionally well. The other gem in this film is undoubtedly Priyanka Chopra, who never goes overboard while portraying her autism. What adds to her character's depth is that she does not have many lines to mouth. Ileana D'Cruz in her debut has done a great job. Saurabh Shukla as the enraged police officer who chases Barfi his entire career, is a treat to watch in every frame he's in. Akash Khurana as Barfi's dad is adorable. One should surrender completely to the performances, imagery, and the music, 'cos they're not just good, but they are achingly delightful. It's as if Ravi Varman's camera breathes up a different life of its own, and Pritam's music is the fresh morning dew that one can never get tired of.
The movie is a candy-house of such sweet little moments, where every single instance wants us to love more- Barfi hearting out himself to Ileana, then his failed attempt at bank-robbery, he planning Jhilmil's kidnapping with his friend or when he and Jhilmil riding a trolley on the railway track, and also their attempts to scare each other off. The scene when Barfi tells Shruti that he's just not perfect for her and that she's better off with the other guy her is a sheer heart-breaker, but not for long. Predictability sinks-in during the second half of the movie, but many efforts have been taken to stay away from the ghostly hands of cliche.
Want some bright sunshine humour to ward off the evils of this black grim monsoon? Crack come thunder through your laugh, ripple up a few smiles, let the sweet-salt rain from your eyes, and unlock the highest level of optimism- go rub some Barfi over yourself.
Overall Rating: 4/5