Indian two-wheeler major Bajaj Auto, today announced the launch of KTM RC series of supersport bikes in India. The Austrian company is up with two new offerings named as KTM RC390 and KTM RC200 which are priced at Rs. 2.05 Lakh and 1.60 Lakhs (Ex. Showroom Delhi) respectively. KTM has won more than 240 World Championship titles with their class apart engineered bikes. The company has seen a substantial growth in Indian sports bikes market and will fulfill the requirement with its 140 exclusive dealer network across length and breadth of the country. Both the bikes will be available for September 10 this year with the dealers.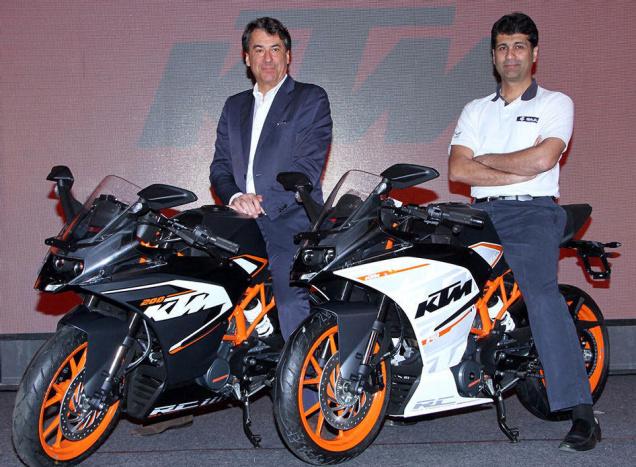 Bajaj Auto has a 47 percent stake in KTM AG and will manufacture both the KTM bikes at their local production unit at Chakan near Pune. The Austrian KTM has outsourced all product development upto 800 cc to Bajaj Auto.  At present, Bajaj's Chakan plant is producing 45,000 KTM bikes across KTM's six models per year and expects to take the production up to 65,000 units by end of this year.  Possibly, the capacity may go up to 100,000 units in the next four years. It seems a win-win situation for both the companies, partnering with Bajaj Auto helped KTM to expand its reach across Asia and Latin American Markets.
It's probably one of the most fruitful partnerships we've seen in recent times. If we take a look at the figures, Bajaj's compact bike segment is increasing at 120 percent considering the market growth of mere 10 percent. In the meantime, KTM is by far the best growing motorcycle brand in India. As per Mr. Rajeev Bajaj, Managing Director, Bajaj Auto, 'Every brand has its place. Bajaj is present in US, Canada and Japan through KTM. So there is no need to ship Discovers and Pulsars there.' 'Being number one bike manufacturer in Europe, the company is exploring all the emerging markets like Latin America and Asia. In India, KTM is selling 1,700 units every month, the fastest growing brand in India making 100 per cent 'ready to race' product,' said Stefan Pierer, CEO, KTM Sportmotorcycles AG.
As of now, Bajaj has appointed 140 dealers across India for KTM bikes, and a total of 11,000 KTM bikes were sold in India with 24,000 being exported in 2013-14. In 2007, Bajaj bought a 14.5% stake in Bajaj Auto which made the way for a global strategic partnership covering joint product development, technology and distribution sharing between both the partners. It has since raised its stake to 48%, which is indeed fruitful.