There have been a number of period movies in the recent past. Many of them quite amazing and memorable. Most of them have dealt either with the story or with the details of the time frame in which they are set. But very few films (as far I know… courtesy the Google God!)  have managed, not just to succeed in both the aforementioned points,  but more importantly carve out these ambitious, crazy, goofball-y, erratic, at-times simply cleavage bearing, and mesmerizingly emotional central characters that its hard to take your eyes off any for a wee second. They say "everybody hustles for a living" to get want they want in life.
And that is what more often than not people do. Because a fake reputation is all a man has. Period.
SCENES & STORY:
The opening scene itself sets the tone for the film. Irwing Rosenfeld comes up in front of a mirror and starts to…dress up?.. no ..fix his tie?.. nope.. comb his hair?…umm well…close.  He very patiently starts fixing up his bald patch by putting a wig with adhesive and then resumes combing it innumerable times and then puts on his burgundy-shaded glasses and leaves for a room with surveillance footage. In the next moments, Richie DiMaso rams into the room with the delicious Lady Edith trying to put Dimaso's mind at ease. And then Dimaso does the unthinkable. He destroys Irwing's hairstyle to insult him. I still remember the audience gasping in disbelief, much as the humiliated man himself.
Sorry no more spoilers. I promise.
Irving Rosenfeld (Christian Bale), a legitimate owner of series of dry-clean stores, also makes his living by selling forged art pieces and and conning financially desperate people with his skills. Along comes Sydney Prosser (Amy Adams), an ambitious sultry vixen with a troubled past who Irv meets a party and both are completely smitten by each other. He opens up to her about everything he does or has. Syd mesmerised and floored by this agrees to help him con and sell art. She adopts the name "Lady Edith Greensley" and starts tricking people into believing she is a royal with sufficient funds to lend them and having an parallel taste for art.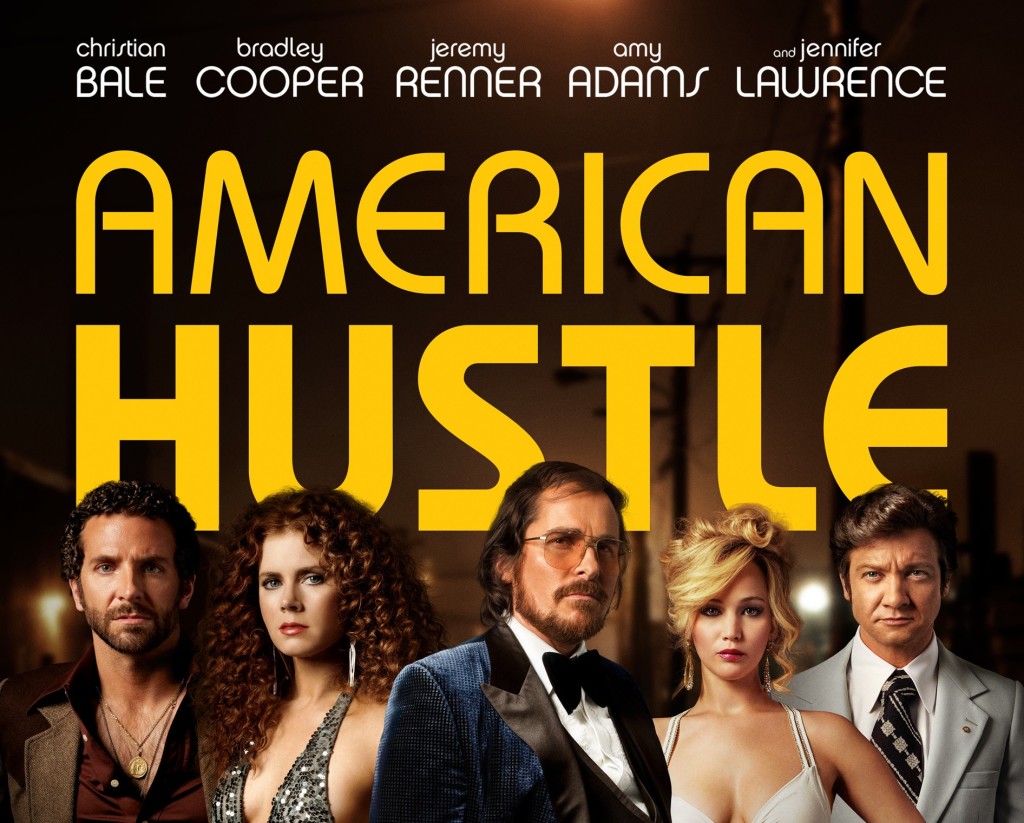 Business is great until FBI agent Richie DiMaso (Bradley Cooper) catches them. He promises to let them off the leash if they assist him taking down  atleast 4 corrupt politicians, lawyers and state senators red-handed while accepting bribe from popular Mayor Carmine Polito (Jeremy Renner) of Camden, New Jersey who has a dream of restarting the casino business thus creating employment for the locals and build the town.
So from setting up elaborate surveillance briefcase cams and renting  high flyer suites to entice the Mayor in thinking that wealthy Sheikh (a Mexican undercover FBI agent) from Abu Dhabi who is  interested in investing in this venture, to meeting up with illegal but definitely real  and violent Mob bosses (a show-stealing cameo by Robert DeNiro) who go from calm to crazy – to speaking Arabic – to going into the Sheikh's good books. The film has it all.
But one might say that so is the case with every past film on stings operations. True. Every next turn , every next move and plot in this film is spitted out at some point. Well Almost. It's like the phrase Irv uses to call his circumstantial young wife Rosalyn (Jennifer Lawrence). She's the "Picasso of passive- aggressive karate!"
ACTING & DIRECTION:
The film is a bit overhyped. But thank God,not the way O. Russell's Silver Linings Playbook was.Inspired by the true and infamous ABSCAM scandal of  the '70's and '80's New York and by the very people involved in it, it is however safe to say that it is the actors playing around with the little nuances of their assigned characters that seals the deal here.
Christian Bale playing the central character here than a supporting one like he did in O.Russell's The Fighter is just legen…wait for it…dary!! I can write an essay on him if one would let me and maybe I still might not stop. His tenacity of putting on weight for one performance and then drastically losing for the next is known worldwide. Amy Adams (just like in The Fighter) is ever-so-convincing as the jaw-droppingly sexy  Sydney along with faking her much revered Brit accent is a treat to watch.
Irv's and Syd love connect makes for a great romantic cinematography. Jeremy Renner is in stark contrast (oops…did I mention an Avenger?!)  to the action packed flicks that he's accustomed to. but does a good job .
And now I bring in the director's "silver linings" Jennifer Lawrence and Bradley Cooper. Brad's Richie is an emotional foolhardy man just like he was in a SLP last year but with more wit and commitment to his  job and his blinded by his own ambition. He and Amy set the screen on fire in their scenes together. Ms. Lawrence has become the director's apple of the eye and there's no denying why. As Rosalyn, she is a mess, silly yet realizes the the gratitude of Irv accepting her as a single mother and giving her son his name. She will complicate things with a smile and will alas brag about her intelligence. Playing a character that requires experience of some one much older than her own and that too with this much conviction is inspiring to say the least. She might not the best method actress on the planet  but it's her choices of films that has made her who she is today. KUDOS.
From outrageous  hairstyles and double buttons suits to crazy dance moves swinging to the '70's hip music to open chested shirts and long dandy saloon cars – the detailing is exhilarating.
Overall Rating –  3.75/5
This is no Oceans's Eleven but you don't always need a crowd to pull off of a con.