Arianespace, Europe's space consortium will launch meteorological satellite INSAT-3D from the Kourou Spaceport in French Guyana. The launch is scheduled for July 26.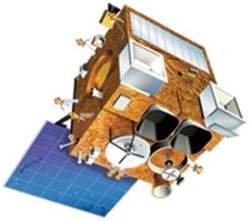 The Satellite will be shot in space with a six channel imager, 19 Channel Sounder with data relay transponder and satellite supported search and rescue payloads according to an ISRO official who informed PTI on Thursday.
The official also added that the space platform was adopted from standard I-2K bus with power handling capacity of about 1100 W with lift off mass of 2090 Kg. The Spaceport in French Guyana will also launch the GSAT-7- a multi-band satellite which will carry payloads in UHF, C-band, S-band and Ku-band. As of now ISRO is gearing up for the launch of GSLV-D5 from Sriharikota in August. The Indian Space agency is focused towards this launch given the successive failures of GSLV, once with an indigenous cryogenic engine and next with a Russian engine.
The GSLV-D5 will lift off with GSAT-14 satellite with six Ku band transponders and extended C band each. GSAT-14 utilises the services of standard 2000 Kg class bus (I-2K) with power handling ability of about 2.5 KW and 1980 Kg lift off mass.