You see these trees here, one day these shall be cut down to make negotiation tables
 Tightroping between entertainment and enlightenment are the stories which make the maximum impact, and this was a play that managed to do just that with effortless ease. You know there's lot more to meet the eye when banters are exchanged while discussing government policies, and you're really delighted post the show to know that you got much more that what you earlier anticipated.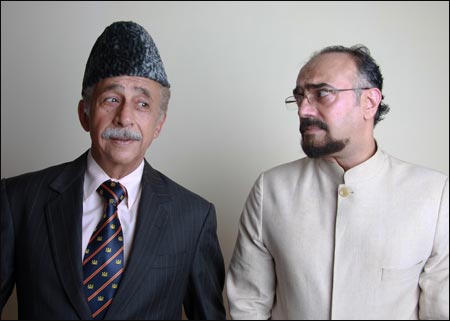 Faisal Rashid and Randeep Hooda's Indian adaptation of Lee Blessing's original 1988 play, A Walk In The Woods is a tale of an unusual friendship developed between two diplomats/negotiators who attend an official conclave in Switzerland to discuss the several prospects and proposals that would in any way relieve the strained relations between Indian and Pakistan, and pave way for progress and economic betterment. Jamal Lutfullah (Naseeruddin Shah) representing Pakistan is a jovial, existential man, who wants to befriend his stiff and younger Indian counterpart Ram Chinappa (Rajit Kapur), who has no patience to tolerate Jamal's frivolous chats. In their difference they find a similarity, and how the amiable Jamal and the formal Ram break their ice and develop a promising bond over a course of months forms the spirit of the play. Their vulnerabilities and their helplessness of fighting a lost cause, all these expressions are beautifully channeled by the seasoned actors. The hollow shell of both the governments lay exposed, but not much focus is driven to that. Conscience, that's where the play is pivoted and that's what drives a major part of the play's theme.
Much has been said and discussed about the Indo-Pak treaties, and this play doesn't romanticize the same old exhausted browbeating discussions to enlighten us. Rather, this play cashes in on the richness of metaphors and corollaries the characters throw in every now and then in their debates. In one metaphorical prose, a cynical Jamal refers to the audience as trees, and asks the hopefully optimistic Ram to have a discussion with the trees instead, as all the latter seeks is a neutral discussion. Profound.
The stage is celebrated with the most brilliant theater actors, who enthralled with their performances and dialogue delivery. Naseeruddin Shah's jocularity was visible in his act, and the humor he delivered did not feel forced at any instant. The way he transformed from lively into a despairing is clap-worthy. Rajit Kapur delivers a masterpiece as the reserved and unfriendly Ram, and here's his one performance that shall go down in history second to none. Mannerisms and dialogue delivery has been beautifully mastered and delivered. The way he counters Jamal's irrelevant and skittish talks, the way in which his earnestness in convincing his counterpart brims up and the way he finally opens up to him as a friend- brilliant.
 Ratna Pathak Shah's direction compliments the top-notch acting. The set is aesthetically designed, and the props used are minimal. The light-play is clever, and appropriately dim/light-up based on the projected time of the day. Rekha Bharadwaj has voiced a couple songs in the play, which seamlessly layer up with the narrative.
"You see these trees here," asks Jamal pointing towards the audience, "one day these shall be cut down to make negotiation tables." And like Ram, we too accept this pathetic reality as we leave the auditorium.
The play was staged at Susie Sorabji Auditorium, Pune, on 14th December, 2013.