Alfred Hitchcock never won a competitive Oscar. Martin Scorsese had to wait three decades for one. Living legend Gary Oldman only got his first nomination four years ago. It is obvious that almost everybody who wins an Oscar deserves it, but not everybody who deserves it wins. As Quentin Tarantino said, "The only thing more prestigious than the list of people that have won the Palme d'Or is the list of people that haven't."
Thankfully, one of the longest reigning oversights in Academy history now stands corrected. Film buffs can breathe easy: Maestro Ennio Morricone finally has his first non-honorary Oscar. If you've never heard of the legendary composer, you are still likely to know his music, especially his iconic themes for Sergio Leone's Spaghetti Western films. If that still doesn't ring any bells, listen to 'Ecstasy of Gold', and continue reading after you've wiped away your tears of joy with a dazed and trembling hand. Musical Legend #1 Morricone receiving his statue from Musical Legend #2 Quincy Jones, and paying tribute to fellow nominee and Musical Legend #3 John Williams was a special moment. The Academy doesn't keep historical age-related data for all nominees, but Morricone may be the oldest-ever recipient of a competitive Oscar.
Okay, okay, let's talk about Leonardo DiCaprio. The actor's tough run of luck at the Oscars has spawned one of the funnier internet memes over the years, and to my dismay, the winless streak is now over. There is no doubt that Leo is an excellent actor and deserves an Oscar, but I don't think this should have been his year. While he is ferocious in The Revenant, his nomination is more about what he did for the role, rather than how he did it. My vote would have gone to Eddie Redmayne, who redeemed himself for robbing Michael Keaton last year with an extraordinarily subtle and delicate performance in The Danish Girl. DiCaprio was fluent and gracious in his acceptance speech, thanking his director and Revenant crew, and ending with a sincere plea to the audience to fight climate change. It's encouraging to see such an absence of self-absorption in one of the world's biggest film stars.
On the other hand, I have no gripes whatsoever with the Academy's choice for Best Actress in a Leading Role. Brie Larson was terrific in Room, and I don't think anyone who has seen that film will have any complaints about her winning. At only 26, the future is luminous for Larson, and I am excited to see what she does before she is inevitably signed to a comic-book franchise.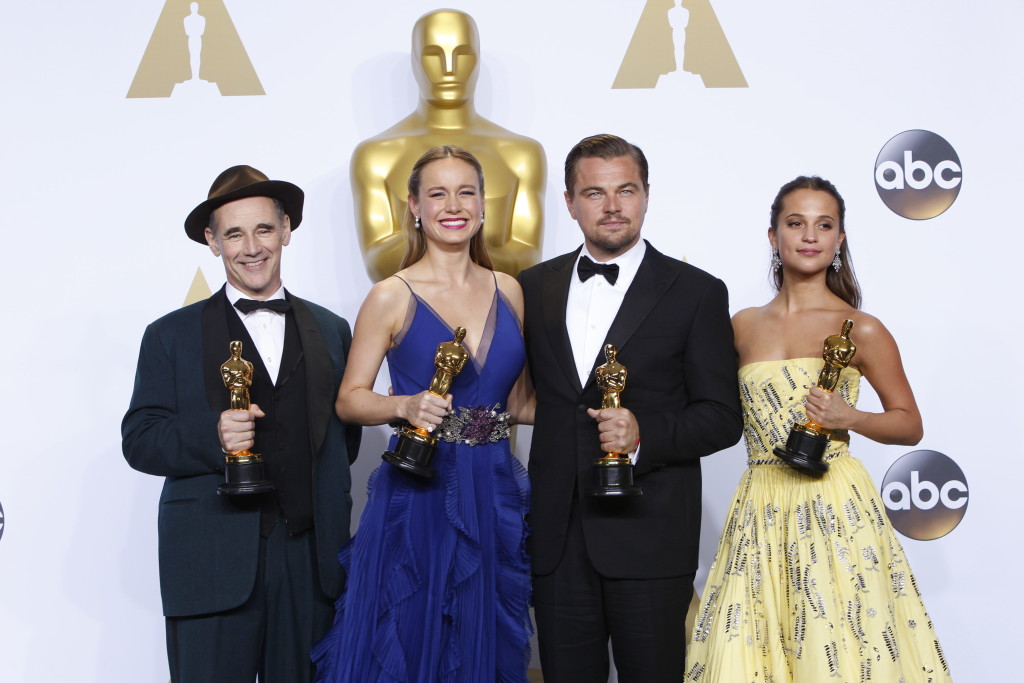 Alicia Vikander picked up the Oscar for Best Supporting Actress for The Danish Girl. This is a sneaky bit of business, because she most definitely has a lead role in that film and not a supporting one. However, I can't blame the studio for campaigning in the Supporting category, given how much of a sure thing Brie Larson seemed to be. Vikander is one of the breakout stars of 2015, and her performances in both Ex Machina and Danish Girl were award-worthy, so I can't say she didn't deserve to go home with a trophy.
The Best Supporting Actor award was the biggest surprise of the night. Sylvester Stallone not getting a Screen Actors Guild (SAG) Award nomination should have been a red flag, but the popular consensus was that good old Sly would triumph for his touching turn as aging Rocky Balboa in Creed. Alas, the fairytale wasn't to be, as Mark Rylance won for Bridge of Spies. Rylance was exquisite in that movie and a deserved winner, but it would have been a magical moment to see the ever-humble underdog getting the honour.
On to the big one – the Academy has named Tom McCarthy's Spotlight Best Picture, and it's as good a choice as any. An important subject, a fantastic ensemble cast and a tense, well-researched story make Spotlight one of the best-ever films on investigative journalism. Spotlight couldn't, however, complete the 1-2, as Revenant director Alejandro Iñárritu won his second successive Oscar for Best Director. While I found The Revenant excruciatingly boring, there is no doubt that it is an impressive artistic achievement, and that Iñárritu is one of the most visionary directors working today.
I realize that I have somehow neared the end of this review and not mentioned Chris Rock. With so much outrage over the absence of black nominees, the host faced towering expectations to hand out the skewering of a lifetime. But boy, did he deliver. The comedian gave one of the all-time best hosting performances, berating not just the Academy for their lack of diversity, but the outrage itself. Some of his choicest lines:
"I'm here at the Academy Awards, otherwise known as the White People's Choice Awards."
"Rocky takes place in a world where white athletes are as good as black athletes. Rocky is a science fiction movie."
"I'm sure there were no black nominees some of those years, say '62 or '63, and black people did not protest. Why? Because we had real things to protest at the time, you know? We were too busy being raped and lynched to care about who won Best Cinematographer."
On the whole, this was one of the more interesting editions of the Oscars in recent memory. It was also one of the fairest, with most Best Picture nominees managing to come away with at least one award. Some stray parting thoughts:
Dev Patel walked out arm-in-arm with Daisy Ridley. That slumdog's luck never seems to run out.
From not nominating The Dark Knight seven years ago to giving Mad Max six awards – the Academy must be credited for becoming less snobbish over the years
Of the Best Picture nominees, my vote would have gone to Room. But by god, Inside Out deserved a nomination at the least; Best Animated Feature doesn't do it justice.
The obvious friendship between co-stars Brie Larson and Jacob Tremblay is endearing. On that note, why didn't Tremblay get more buzz for his performance? He was extraordinary, you'd think he'd get a Supporting Actor nomination at the least.
Lady Gaga was the performer of the night, taking to the stage with fellow survivors of sexual abuse to sing a powerhouse rendition of "Till It Happens to You", which was unsuccessfully nominated for Best Original Song. I haven't heard the other nominees, but she should at least have beat Sam Smith's humdrum Bond theme.
Dave Grohl performed The Beatles' Blackbird for this year's "In Memoriam" segment. Ironically enough, Paul McCartney's original inspiration for the song was the state of race relations in 1960s USA.
Mark Rylance had one of the better speeches of the night, with a couple of memorable quips – "Unlike some of the leaders we are being presented with these days, Steven Spielberg leads with such love" and "If you ever wonder about acting with Tom Hanks – 'Would it help?' the answer is clearly yes"
The fantastic Ex Machina managed to slip away with the Best Visual Effects award. Hurray.
I'm praying we get to see Louis CK host the Oscars next. He was the presenter of the night with his hilarious introduction for Best Documentary Short
Hey look, Priyanka Chopra!
All images courtesy: Academy of Motion Picture Arts and Sciences