The story that made people go gaga about the book in 2009, has yet again created the much expected vivacity among them! This film, starring Arjun kapoor (Krish) and Alia Bhatt (Ananya, his love interest) in the lead roles has a gripping storyline. For those who haven't read the book, this movie is a plain "love and struggle" parable, where two humans, fall in love, plan to marry and the eventual battle to turn the dream of their marriage, into reality. Nothing less than rocket-science (and really nevertheless in India), the story propels through the very obvious turmoil in a love relationship that begins vaguely and in an improbable way, in the IIM-Ahmedabad mess canteen.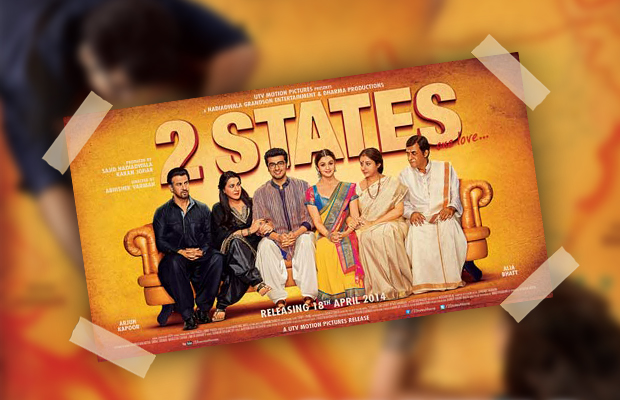 Arjun has been shown to be very coy, yet cheeky. A Punjabi guy with a lot of "garam khoon" as they say sarcastically. Alia Bhatt, with a beautifully engulfed Tamilian identity, highly self-dependant girl, is almost convinced about the fact that all IITians eventually develop a soft corner for her, bizarre! She could not, unfortunately, portray the much expected versatility in her acting skills, especially in this movie where it was much needed. One can actually relate her character in the movie – "Highway". Though not to avoid saying it, the chemistry between Arjun and Alia did justice to the original semi-autobiography, as it looked quite realistic. I could not ignore the star cast that has been chosen intelligently.
The movie also stars Ronit Roy and Amrita Singh as Chetan Bhagat's parents. Perhaps the best part of the movie was the exact depiction of a typical over-the-top Punjabi family and a typical over-proudy, reticent Tamilian Brahmin family. Shiv Kumar Swaminathan and Revathy, Ananya's parents, highly reserved, not at all friendly entities tried hard to blend with Krissh's mother for Ananya's sake. In the course of time, Krissh and Ananya were trying hard to convince and gang up the two families for their marriage to happen smoothly. With the culture extremities that persisted to the core, the movie totally focused on the varied ways with which Krissh and Ananya went on to persuading their parents and ended up getting married in a perfect Brahmin Tamilian wedding. The fact is appreciable, that Abhishek Verman (Director) has not left behind any part of the book unattended. The song tracks fit in quite aptly, though the gaps in-between are almost negligible.
The first half was a bit slow, yet steady, describing all that was their between Krish and Ananya before their placements happened. Ananya, being an Economics topper, was curious on everything that she came across about Krish. And Krish, almost got so much panicked that he finally decided to stop seeing her that eventually led to the beginning of their love story, ironically! With the Brahmin girl eating non-vegetarian and the Punjabi guy getting nervous with the sudden friendship and the alluring beauty that she was, despite being a South Indian (since people do have stereotype opinions, that was also illustrated in the movie every now and then), the movie has got nothing innovative. One can also feel few comical scenes to be a bit off the track, since it takes time to comprehend those, by the audience.
The second half grabs momentum as it focuses on the struggle of Krish and Ananya to convince both the parties for the marriage, with the boundless faith they had, on each other. This part is intriguing, as the sardonic scornful behavior of a typical Punjabi mother with her to-be daughter-in-law, Ananya and the mind blowing proposal by Krish, of marrying all the family members of the girl, presenting all of them with gold rings, make it a marvelous portrayal of love and commitment. As said by Chetan Bhagat in an interview, he could forgive his father while writing this story, the movie also revolves around the eminent Indian family values and morals that sometimes very satirically mock their existence. Grievously, it could not satisfy the high expectations that the audience had from it, after watching the blockbuster super-hit based on Chetan Bhagat's Five Point Someone – 3 IDIOTS, and also the adaptation of 3 Mistakes of My Life – Kai Po Che.
Though it passes on a splendid message of respecting human as an individual and not according to the conventionally accepted way of respecting people, with the type of culture they follow. It also, successfully shouts out loud – that love knows no culture, no boundaries, no caste or creed! When it has to happen, it just happens, happens between two people, even without their consent. But few more steps follow this. At least in India, where everything does matter!
Overall rating: 3.5/5