WWE kicked off the 2016/17 season with a solid edition of Payback three weeks ago. We are now on the eve of Extreme Rules, and while nothing about the ongoing storylines demands attention, the card itself is set up nicely. Here are my predictions for each match:
The Vaudevillains v. The New Day (WWE Tag Team Championships)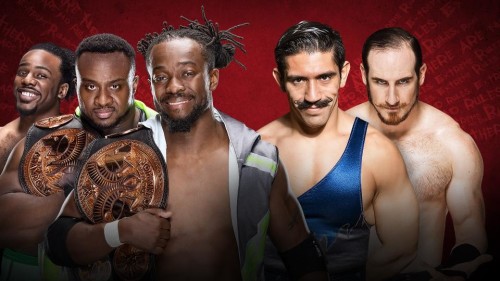 While Aiden English and Simon Gotch have done well in the spotlight of the main roster, there's no reason to have them defeat New Day for the titles. New Day are having a good run. It ain't broke yet, so why fix it? I think Gallows and Anderson may have a title run in their future, so I suspect WWE will want to extend New Day's reign and have 'The Club' be the ones to break their streak. I foresee a straightforward win for New Day here. The Vaudevillains might react poorly to their loss and attack New Day post-match. This could spark a run-in from Big Cass, perhaps accompanied by Enzo Amore to the delight of a hometown crowd.
Prediction: New Day wins
The Usos v. The Club (Tornado Tag Team Match)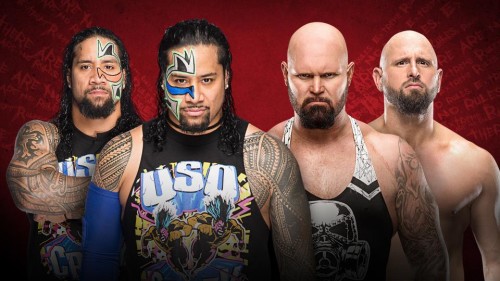 I've been skipping  Usos matches on Raw for ages, so this feud holds very little interest for me, apart from its intersection with the main event storyline. It's clear that while the audience knows The Usos, The Club need to be established as a force to be reckoned with, and so they will get the victory here.
Prediction: The Club wins
Dolph Ziggler v. Baron Corbin (No Disqualification Match)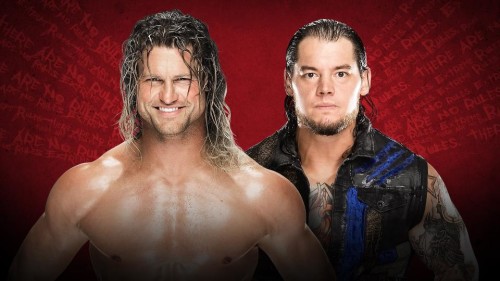 Dolph Ziggler won their last PPV encounter at Payback, so Baron Corbin is the heavy favourite here considering that he has to come out of this feud looking like the stronger of the two. On another note, I hope WWE is considering a heel turn sometime soon for Ziggler. He deserves a better fate than midcard jobber; maybe a shift to the dark side will at least make him a main event jobber instead.
Prediction: Baron Corbin wins
Natalya v. Charlotte (Submission Match for WWE Women's Championship)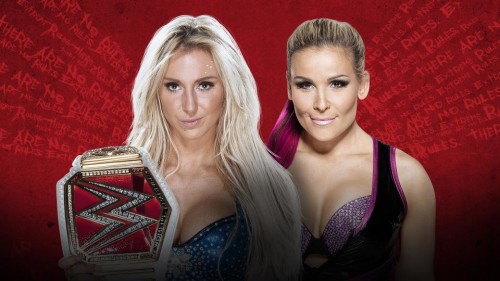 The additional stipulation for this match is that Charlotte will lose her championship if Ric Flair makes an appearance at ringside. Points to WWE for trying to introduce an element of unpredictability to this match, but the result is still obvious. WWE's new vision for the women's division obviously revolves around youth – a title win for Natalya doesn't quite fit into that picture.
Prediction: Charlotte retains the WWE Women's Championship
Rusev v. Kalisto (WWE United States Championship)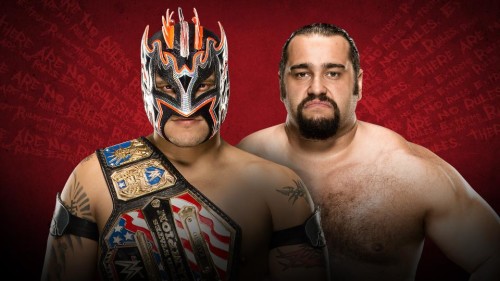 Most pundits seem to be picking Rusev in this one, and I am inclined to agree with that prediction. Kalisto's title reign has run its course, and with a returning John Cena rumoured to be heading straight for the US Championship, a heel champion is the need of the hour. Kalisto will try valiantly and come close to stealing a win, but the Bulgarian Brute will crush.
Prediction: Rusev wins the US Championship
Dean Ambrose v. Chris Jericho (Asylum Match)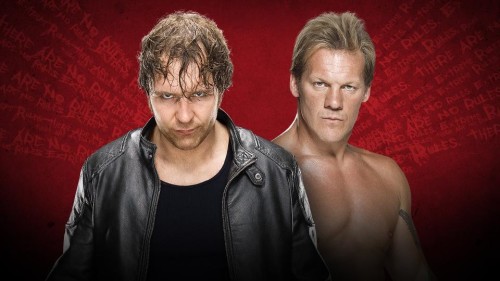 I don't quite know what to make of this match. While common sense dictates that Dean Ambrose should win decisively to end this rivalry, WWE's obsession with 50-50 booking could result in a Chris Jericho victory to even the score and set up a final blow-off match. However, considering that the next PPV is Money in the Bank,  one if not both these men are likely to be involved in a clash for the briefcase. This strengthens the case for wrapping up the feud at Extreme Rules, so I'll call an Ambrose victory after extremely goofy shenanigans involving potted plants, broomsticks and the like.
Prediction: Dean Ambrose wins
AJ Styles v. Roman Reigns (Extreme Rules Match for WWE World Heavyweight Championship)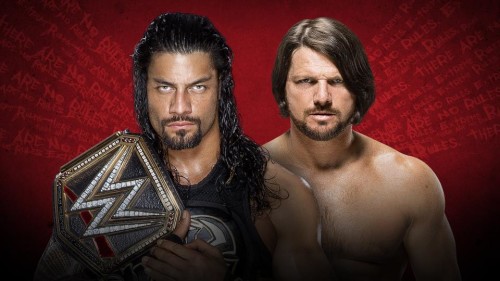 There is a lot of speculation about the possible ending to the main event, which is always a good thing. Will AJ Styles finally reveal his true colours and use The Club to acquire the championship? Will the Usos manage to save Reigns in time? Will Reigns himself turn heel and shock the WWE Universe? Will Finn Balor show up? Will Seth Rollins? I like that there are so many questions in the air, but in my mind the end result is not in doubt, although I have no idea how WWE will choose to get there. Roman Reigns is not losing his title, because he really is the guy WWE is betting on for the near future. I will rehash my prediction from Payback: The Club will interfere in this match and 'accidentally' cost AJ Styles the victory, which will lead to a Styles vs. Club feud in which a debuting Finn Balor is revealed as the Club's secret mastermind.
Prediction: Roman Reigns retains the WWE World Heavyweight Championship
Cesaro v. Kevin Owens v. Sami Zayn v. The Miz (WWE Intercontinental Championship)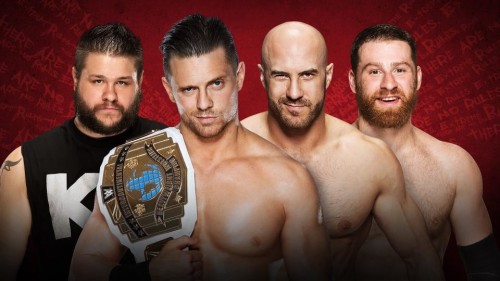 I've listed this match after the main event because it is my favourite feud going into the show. These four men have been on an absolute tear, and I'll be happy no matter who walks out as Intercontinental Champion. It's also the trickiest match to predict on the card, as you could make a case for either of these performers. However, I think WWE knows it has struck gold with this four-way rivalry, and so they will choose the outcome that allows them to keep it going a little longer – that's a Miz victory. The match seems perfectly designed for Miz to capitalize on someone else's work and steal a win with his wife's help. Two of the other three men can then move on to the Money in the Bank match, while the third can feud solo with The Miz.
Prediction: The Miz retains the Intercontinental Championship
Extreme Rules goes live at 5:30 am IST on Monday, 23 May.
All images courtesy WWE.com