"We all take the gift of life for granted. If only we could understand the gift we have been given, because before we know it, the gift is gone" – Anon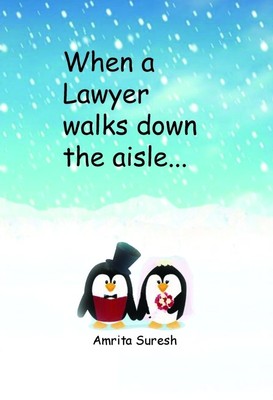 Amrita Suresh has done it again! While the author is still basking in the success of her first novel "      ", she has come up with a brilliant concept the supernatural phenomena mixing with the practical world. Her successful second venture " When a Lawyer walks down the aisle" not only touches a lawyer's heart but also pulls the non-lawyers closer. The story is an eclectic blend of mystery, drama, romance ( lots of bromance included as well ) and emotion! Once you pick this novel up, you simply can't put it down.

We all know how lawyers are! They are witty, smart, artsy and extremenly in a fix. No doubt when they face a dilemma, it soon becomes a legendary adventure. Anks nee Ankur Palekar was no different. A pudgy, talented lad with a legendary pouch, he was never weighed down ( pun intended) by the legal, atrocious cases until he was visited by an elderly ghost of an octogenerin lady, Mrs. Shireen Lakdawala who claimes to be brutally slayed by the greedy Muzumdar builders who are notorious for forcefully grabbing land of the people. Obviously , he had second thoughts about taking up this case until he along with his six-footer bestie Vyas, his chuddy-buddy and bromantic friend and his fiesty yet sweet Gujrathi fiance, Sonali put their foot forward to eliminate the vicious builders. Come then his other friends from the law school namely Souvik, a bengali Rabindra Sangeet trained with his pretty fair Tamil Brahmin divorce attorney who are very much in love until some issues crop up between them and their love-story meets an enigmatically morbid end. Then there was a spunky Pavan Nair, a lawyer who wants a star and madly in love with a bimbo Tara Bansal who can go to any length to make it big! All the lives are passionately intertwined and turn out to be a classic  story. Apart from the case, there is an impending wedding of the pudgy Anks and Sonali while Vyas is all crazed about hunting bride and his amma! 

A total entertainer, this book will make everyone fall in love. The language is lucid, yet too many adjective expressions are used which is found to be a thing of inconvenience. The story is consistent and all the characters blend beautifully forming a beautiful story. Worth a shot!
Overall Rating : 4/5
You may purchase the book from Flipkart here.