While most of the Indian advertisement section celebrates tastelessness, there are a few advertisements that make you sit down before the TV and take in every single emotion on display. This post is just a tribute to such adverts which had our hearts jumping with joy, and I'm pretty sure that some of these ads (if not all) have had a role to play in wetting your eyes even.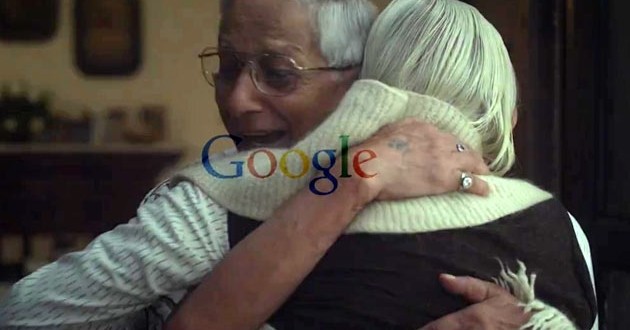 Google Search Reunion ad:
This was by far the most talked about ad in 2013, and it beautifully cashed in on the economy of friendship, a friendship that seemed lost with India-Pakistan partition. How Google's services rekindled the lost joy is what this ad is about. And aah, the music!
Tanishq Wedding Ad:
This ad starts of like any other jewellery ad, shimmering all the gold and all, but the sweet climax this story has draws us in its favor. With the concept of remarriage employed in the most beautiful way possible, this ad is definitely worth a watch.
Hindustan Unilever 'Project Sunlight' Ad:
'Why bring a child into this world?' it asks, and follows up with a great message for the child's bright future. Hear the message being delivered by the King of Bollywood, Shah Rukh Khan himself.
and this too (the SRK narrated one)-

ICICI Prudential Life Insurance Ad:
This ad was such a BIG hit among the ladies. And of course, men too, for this ad projected them as a loving family provider. Bande achche hain, aur ye ad bhi hai achcha.
Coca-Cola 'Small World' Ad:
Have you made a friend from Pakistan? If yes, then there's a Coke for you. India and Pakistan may be projected as enemies, but there's a deep-rooted friendship between the two countries that can win over all the hatred. This ad basically supports the same idea, and is worth a watch.
Eye-Donation Promoted in Holi Ad:
Give a chance to the visually challenged to experience the colorful beauty life has to offer. This ad conveys the same idea with such simplicity and conviction, that even the naysayers shall consider once of pledging their eyes. Extremely powerful this.
Bournvita 'Race' Ad:
Life ain't easy, and a lot many efforts have to be taken to ensure our win. Instilling this idea in her young son is the woman in this inspiring ad, who doesn't believe in spoon-feeding and wants her child to come out strong in life. Wonderful ad.
Lifebuoy 'Help a Child Reach 5' Advertisement:
This story is a bit prolonged, but the message it wanted to deliver came out prominently in the end. How several diseases (and even death) could be prevented by daily washing hands is what is highlighted in the ad.
Lifebuoy 'Roti Reminder' Ad:
Reaching out to millions of people in rural India, this ad acted as a reminder to people, asking them to wash their hands before they eat.
Incredible India Ad:
India's finest and the most exotic places are celebrated by this traveler, and the experiences shared are just a delight to watch. This ad by Incredible India is a treat.
Apart from these ten advertisements, other ads that just missed the above list, but are equally lovely:
Kit Kat Dancing Babies:
This features in this list for the sole reason that it was fun. One of the best ads of the year, no doubt, this had us dancing to its tune while we had a break.
IDBI Bank 'Bank Aisa Dost Jaisa' Ad:
This is one among the four ads that the bank released to promote its services, and this shall have you sharing the happy smile that you once shared with your childhood friend.
In case we missed some really deserving advertisements, please do let us know of the same in comments below.
UPDATE: It seems like we did miss some brilliant advertisements. I had loved them like anything when I saw them on TV, too bad I skipped these while composing the list.
Titan Teacher Farewell Ad:
This is how the farewell of an Indian teacher would be if he was as awesome as Robbie Williams in Dead Poets Society. Brilliant ad, and the classic Titan music is a delight to listen.
Cadbury Celebrations Made With Love Ad:
Spread love, and love is what shall return to you. Splendid.
Britannia Good Day Ad:
This is another one spreading happiness. Britannia has had a huge list of such amazing ads, this one tops the cake.
 Mahindra Verito Vibe Ad:
Thankfully there was one automobile ad that made the cut. Just because it was being a sport.
Coca Cola 'Crazy Hun' Ad:
To all the misfits, the crazy ones, to people who live to make others happy- CocaCola here tributes an awesome ad to you.
Do suggest any more ads you believe deserved the cut and we missed. If good, would be glad to add it here.