I swear on my children there can be no tie-up between us. We are fighting the election against these scam-ridden parties.
TO
We are forming government because people of Delhi want us to and take up the challenge thrown at us by Congress and BJP
Funny how politics is- Mr Arvind Kejriwal, who was till last month "not even in Congress' radar" (as per Shiela Dixit), is now swearing in to become the Chief Minister of Delhi, forming a government with Congress itself.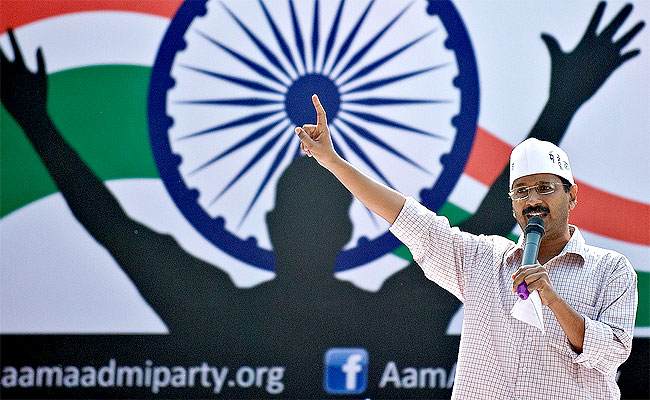 He seems to be our only hope against the looting spree of Congress and BJP. One scam after another, a mayhem corruption, no wonder Sonia Gandhi was supposedly claimed to be richer than the Queen of Britain. Whether that is a fact or not, give a thought to what the net assets of the Gandhi Family would be with Robert Vadra! And now think of what the net assets of that poor farmer is who has committed a suicide all because he could not repay the loan for his land! Think of what YOUR assets are! Is it fair that a part of your hard earned money which has been taken as tax is being gobbled up by politicians of our country?!
Take the recent case of ministers of Karnataka going on a so called educational trips to South America so that they can improve the infrastructure of their constituencies in the state. Their trip itinerary includes 'Alligator Catching'. Now how is this supposed to help them improve infrastructure?
Rise of AAP to power in New Delhi clearly shows that the people of India are tired of reading headlines of corruption and scams day after day, they are jaded by their helplessness to stop corruption. In in Mr Kejriwal they see their crestfallen hopes rising, they see themselves free from being plagued by corruption at every government office they go. They see a new India rising who has trust in t's leaders, who think that politicians for a change won't shame them for once.
 But is corruption the only agenda to run a state or a country, there are myriad other factors which need to be considered by Mr Arvind Kejriwal and will be put to test on. Not just governance, Politics too! Congress as of now is supporting AAP hoping it can project a clean image in the midst of all its muck of corruption, inflation and mishandling of Indian economy. What if their support is mere illusion, what if they withdraw support in near future to topple the government?
Will Mr Arvind Kejriwal be able to stand tall against BJP's PM candidate Mr Narendra Modi? Will it be right to vote for BJP just on the basis of one person who is typified as development, not to forget the corruption charges on ex BJP president Mr Nitin Gadkari, even BJP is not free from allegations of corruption.
Will people of India make an educated vote or will it just be a vote of no other alternative? Only time will tell how things will turn out. If things work out well that would be a start of New India from New Delhi.
……………………………………..
This post has been written by our guest author Ameya Sonkusale.