Authors: Yuvraj Singh. Sharda Ugra, Nishant Jeet Arora
Overall Rating: 4/5
The Test Of My Life From Cricket To Cancer And Back unmasks the virile persona of Yuvraj Singh, exposing the vulnerable soft-hearted soul within. The poster-boy of Indian cricket bares all in his inspiring autobiography, from topics ranging from his family to cricket & to his temporary cancer-arrested phase, and how he came out of it all a winner. The autobiography has been writ in a very newspaper-ly manner, which does add charm to the overall reading, making it all the more conversational.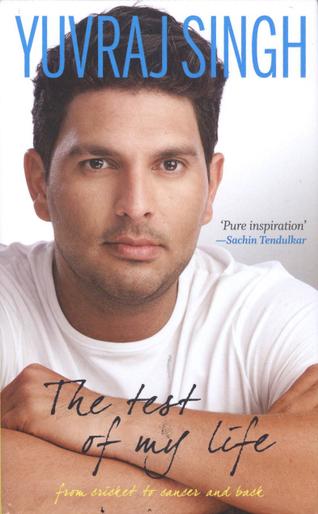 His life's account is perfect Bollywood material, and had we not followed his life so long, this book would've passed as just another inspirational fiction. A young boy drags along with him a troubled childhood, with an obsessed and domineering dad pulling out his cherished skates only to have him excel in willow-swinging. His parents engaged in daily fights, and one fine day an 18 year old Yuvraj opted to live with his mother alone. Yes, the book even narrates the test of his mother's life, which was anything but easy. He doesn't fail to ink his love and admiration for Sachin Tendulkar, and how the Master Blaster was a motivation for Yuvraj to win the World Cup for India. Also, a detailed account has been provided with the diagnosis and treatment of his cancer. As we approach the last pages of the book, Yuvraj lets out how grateful he's been to cricket and the concerned cricketing bodies for providing him with the best facilities and treatment during his hard time.
The book reigns supreme owing to its modesty and honesty. It unpleasantly reminds us that not everyone gets everything, and one needs to maintain and respect what one has got. As Yuvi puts it in the book-
I see that I have been given a second chance in life and I know that I intend to spend it running. If I fall, as I will, I look forward to dusting myself off and running again. That I can do.
And that he has done, indeed. Order your copy of 'The Test of My Life- from Cricket to Cancer and Back' here: