My city was crumbling down like a palace of cards. Death and destruction had engulfed the city like the nefarious python engulfs its prey. People cried for help, but no one was powerful enough to put an end to the carnage around. Just when all hope was lost, I rose from the ashes of the city ,like a knight in shining armor, amidst all the pandemonium I could see the one responsible for all the devastation, Kratos. I could see insanity in his eyes, I knew nobody could stop him except me because I was the only one more powerful than him and he was aware of my powers that is why he destroyed my city and my people so that while I am weeping for them, he wipes out entire human race from the face of this earth. But I didn't let that happen and I transformed my pain into relentless vengeance and pledged his annihilation. With that focus in my I took my flight and with supersonic speed and ultra-human strength collided with him. It was a duel of gods, unseen in the previous 100,000 years. Kratos was strong and a worthy fighter but greed for power made him blind and weak and just when he underestimated my move I took the advantage and lunged for his neck and broke it.
Oops! Sorry, I just zoned out into my fantastical world. Now back to reality, and here goes to review of The Secret Life Of Walter Mitty.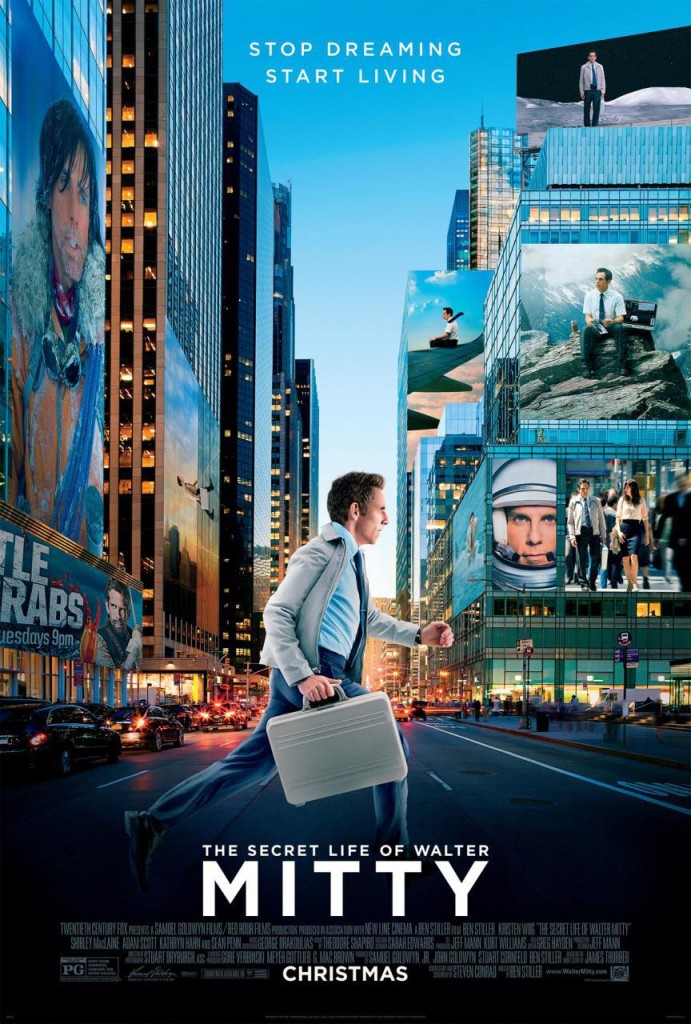 Story
Loosely based on the adventures of The Secret Life of Walter Mitty (The Book) written by James Thurber, this is an adventure of a person who more than often zones out into his fantastical world filled with his acts of heroism. His fantasies are an escape from his mundane and uneventful job at the LIFE Magazine which he into which he was forced due to chain of events triggered by an unfortunate event in his life. Walter never gave his life a second chance and he continued with his life-numbing job at LIFE until one day when he gets an opportunity to locate famous photographer Sean 'O Connell, because Mitty lost the photograph which Sean clicked for the last edition of Life Magazine. Mitty grabs the opportunity and embarks on a journey to locate Sean and find the missing photograph which ultimately leads him to find enlivening LIFE in his monotonous existence.
Performances
The Secret Life of Walter Mitty is a successful rendition of the Book and there are multiple elements responsible for it but a brilliant performance my Ben Stiller will be on the top of the pyramid. Stiller's has always excelled in comic roles but Walter Mitty's character is a mix of comic-lowlife-introvert kind of person who has a contrasting personality in his Fantasies. Stiller does a fabulous job in the moments when the character zones out into one of his fantasies, the non verbal cues that his personality gives speak more than the dialogues.
Ben Stiller has done some great work in his long career but this one will always be special for him and also for the audience because it is the most relatable character he has done ever.
Cinematography, Background Score and Direction
The Secret Life of Walter Mitty is a vivaciously picturesque cinema with some great background score which makes the journey revitalizing and uplifting. From Greenland to Afghanistan the locales are captured beautifully just like the ones in a National Geographic documentary.
The background score is perfectly in sync with the mood of the cinema here and is one of the foremost reasons why this movie is an enjoyable journey with 'Ground Control to Major Tom' being the most beguiling track and you find yourself humming to its tunes even after the movie ends.
Ben Stiller is great as a comic actor/Talk Show Host/Director of Comedy movies but a serious movie requires a totally different skill set, was stiller the best  guy for this job?that question is debatable but what Stiller gave us in this movie is good but I felt it could have been exemplary if someone more experienced with this kind of cinema would have helmed the role of a director. I say this because I felt there was a certain kind of rush in the movie, things happened too fast with the character of Walter Mitty. He was a lowlife one second and in the other second he embarks on the most adventurous journeys of his life without any strong motivations. The transition of the character could have more realistic which would have made the movie more impactful.
Final Word
Even with Its flaws, this is a refreshing movie which makes you feel good after the show ends. It's not among the most inspiring movies I have seen in my life but it's a pleasant, visually and audibly satisfying tale of regaining our life no matter where we are and what we are doing. Nothing can stop us from, I quote from the movie, "To see things thousands of miles away, things hidden behind walls and within rooms, things dangerous to come to, to draw closer, to see and be amazed."
What I had expected from the movie
: An inspiring tale of
regaining our lives back, something like FORREST GUMP
Praises
: Ben Stiller's performance, splendid visuals and background score, refreshing story
Complains
:
Display of inexperienced direction (slightly), screenplay weakens during the transition of the character, less zoned out moments
Overall Rating: 3.5/5