Gone are the days when children used to be hooked to children's comics and story-books, thanks to Steve Jobs and Google! However, one can equally enjoy the story books, especially this one, for it is full of fun, puns and merry, peculiar adventures of two loving brothers Harshabardhan and Gobardhan. Born and brought-up in Assam and Bengal, author/humorist Shibram Chakraborty gives a perfect Bong-touch to his "mishty" stories making them even more endearing. Initially published in Bengali language, his several comic-series were translated by Arunava Sinha.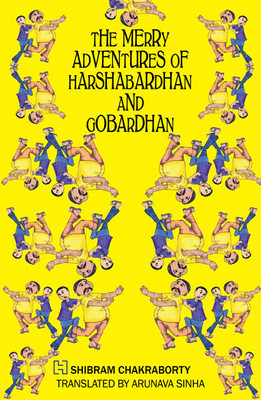 Harshabardhan and Gobardhan are two eccentric brothers who dare to dream big, take big risks, fail and get up and move on! They not only make us laugh with their eccentric tactics but also venture into different arenas with peculiarity. Jumping from one dream to another is their forte. Sometimes, they do not shy away from taking the trodden paths of petty corruption to earn more profits in their timber-dealing business. Wherever they go , they create ruckus often infuriating many! They are curious and have an insatiable appetite to learn new things and explore different arenas. Their mannerism is wacky and clumsy often getting them into hot soup. The stories are different however, their butt-cracking jokes are the same. Come what may, they stick to each other through thick and thin! With clumsy adventures often going wrong, they face music and are always on the move. The locations of the story give us an authentic feel. Living on their whims and fancies, they form a perfect duo to fall in love with.
The book is a collection of several stories of these misfit, wacky brothers, their out-of-the world adventures. The language is lucid and comprehensive. However, the wackiness is repetitive often boring us. Although not value for money, it can entertain u when you are in blue. What is the best thing about the brothers is their love and unconditional support for each other. A nice book highlighting what we call the sweet 'bromance'!
PS: A heads-up if you are in for some nostalgia of the early Bong era. A no-no if you think that when it comes to children stories, Ruskin Bond is the best!
Overall Rating: 3.5/5
You may purchase the book from Flipkart here –