If like me you too are a fan of Devdutt Pattanaik's artwork that puts Indian mythology in a whole new light for the entire 21st century generation, you'd enjoy this quick weekend read 'The Leadership Sutra' – An Indian Approach to Power as much as I did. At first, it seems far-fetched that an author is trying to equate incidences from the great Indian epics such as the Mahabharata and the Ramayana with today's company management and power struggle. But when Devdutt takes up this task, he makes it seem so obvious. You are left with no choice but to believe that the power struggle has been the exact same for centuries and there's a great deal of learning to be received from the amazing Indian epics.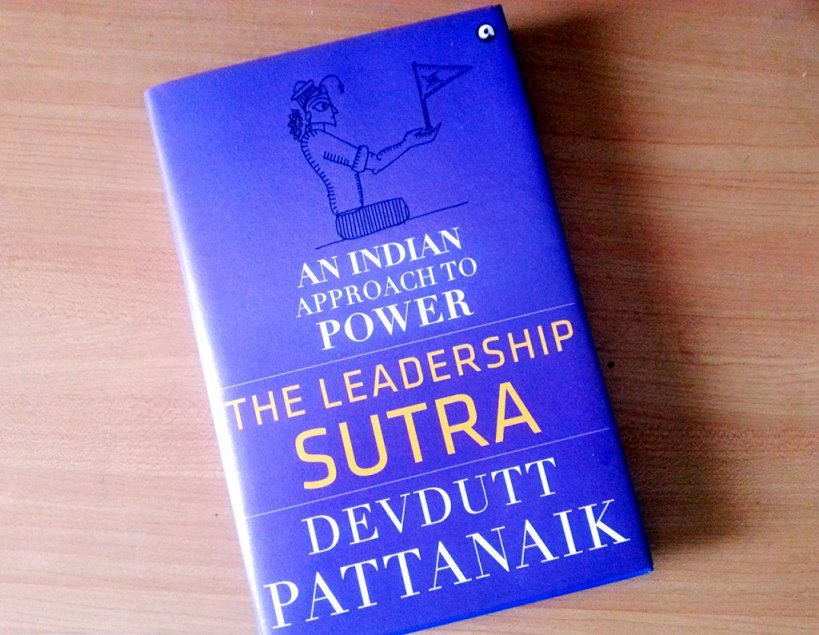 This book The Leadership Sutra that spans a little over 100 pages takes you through 4 lessons or sutras of leadership to formulate the management and business techniques that were wholly made in India. The book is divided into 4 parts for different values – Significance, Property, Rules and Stability – each speaking about what constitutes management, how one can become a good manager and why we see what we see in the leadership scenario. There are lessons to be learnt in every chapter.
What specifically caught my attention throughout the book was the idea of 'Durga' – the Hindu, Buddhist and Jain goddess being portrayed as the symbol of outer or social status, in contrast to 'Shakti' which is portrayed as the mental image or inner strength or capability. How one invokes Durga, how one seeks it and how one goes after it is beautifully essayed via various mythological accounts and stories and corresponding parallels in the various daily life incidents happening in companies across the world.
Readers will enjoy reading about various mythological characters and Indian gods and goddesses such as Hanuman, Krishna, Indra, Dhritarashtra, Arjuna, Ram, Yudhishthira and several kings and queens that ruled parts of India. As soon as you try to decipher the underlying meaning in a mythological tale, you will be taken to a new-age tale of an everyday character in a company with an episode that all of us working professionals have encountered one time or the other in an organisation. This tale will recount the lesson to be learnt from the previous mythical story and you'll be awed to note the stark resemblance to several characteristics that will be brought to life for you by the author.
Hidden in these pages are not only stories, but also accounts of various rituals and symbols of India that give you a completely new approach to view business, governance, leadership, economics, politics and the overall dynamics of any organisation. It's a very Indian tale and who better than Mr. Pattanaik, the renowned mythologist to take you through the interesting stories while giving you spoonfuls of important stuff to put your mind to.
It needs to be told here that the Leadership Sutra has been derived from Devdutt Pattanaik's influential bestseller 'Business Sutra', the book that finds parallels between the intricacies of modern management with that of Indian mythology. Unlike Leadership Sutra it's a slightly difficult read, but enlightening nonetheless.
Overall Rating – 3.5/5