I find short stories a real effective stress-buster, and how I wish Stephen King released an anthology every year. Not only do his stories vary in genre, but also in theme, and are equally engaging to both your wit and emotions. The dark humor lacing the storylines make it all the more thrilling. King has an exceptional insight on human nature, and he employs his knowledge of the same to build up some really cruel plots. I'm still in awe with the author's imagination. For those into Stephen King-trivia, the book has lots of autobiographical introductions on how he came to write a particular piece, and they're fantastic!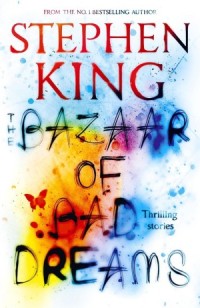 Most of the stories in here are exciting. Of the many stories – 'Morality', 'Mile 81' and 'Batman and Robin Have an Altercation' deserve a special mention. I'd rate both of those stories 5 stars only because they both managed to take me completely by surprise. Though the tagline of the book says 'Thrilling stories', I wouldn't tag them as really in the horror genre or scary tales. They are more of the 'twist in the tale' types. Some of them are outright unsettling though and that's the charm of it.
Stephen King's speciality lies in making you draw a total, vivid picture of the scene he is describing. The author's knack of blending in the supernatural within the day to day life of Americans is commendable, but I should warn you here that not every one of these 20 stories is connected to the supernatural. There's alternate realities, radiation, war, and end of the world as well. Most of the stories have an exciting punch at the finish line and that's what keeps you going.
Although I would've preferred writing a line or two about every story individually in this review, but I do not want readers to brush off with any  spoilers in the process. Read the book for its mind-boggling storylines that have such a wide range of themes, be it dark humour or just plain thrilling. No two stories are alike and I am pretty sure the variety will amuse you.
All in all, this one's a perfect book to curl up with into the night and wander in the crooked and spooky bazaar of bad dreams.
 Overall Rating: 4/5