Leila Seth's Talking Of Justice is a compilation of many essays on some substantive matters close to her heart. Leila, who retired as the Chief Justice of Himachal Pradesh, shares with her readers detailed experiences of cases she was personally involved with and had a say in. The many subjects the book houses include the rights of women, children, prisoners and even gays. Gender sensitization within the judiciary, need for uniform civil code, judicial administration and the status of widows in the society are some other important subjects the author has focussed upon.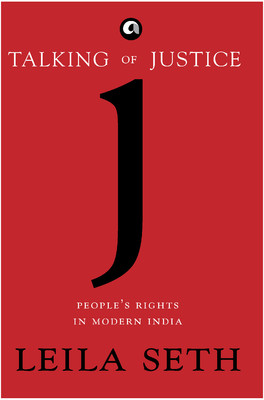 The book not just involves personal sketch of the stories, but rather it weaves in a detailed analysis complete with facts and figures which make those essays even more informative. Many essays have already appeared as newspaper columns, but the content has been edited, updated and rewritten for this book. Backed up with personal insights and facts, Talking of Justice delves deep into India's laws and suggests some revisions to the same, and even offers ways in which the rights of people could be protected, especially of those who are marginalised and vulnerable.
The issues mentioned in the book are as real now as they were back then in those years, and the author in a very straightforward tone opines on these issues. Her documentation of the 2012 Justice Verma Committee, which was constituted after the Nirbhaya Delhi rape case, details the tumulous amount of hard work that went in creating and presenting the 631-page report in a span of 29 days. And this report had a lot more to offer than just law reforms; it sought police and educational reforms as well.
I'd recommend this book to anyone who wants to get an idea of how law works in some segments at least. Not all the functionalities are listed, but one can draw a somewhat clear picture based on what's given.
You may order the book from Flipkart here :