SONY, the Japanese tech giant, has launched its Flip range of hybrid laptops in India following their showcase at the Consumer Electronics Show (CES) in Las Vegas earlier this very month. The primary genius of this hybrid series is their hinge mechanism which lets users switch to different modes among a laptop, a tablet and a viewer. The all new Vaio Flip could be availed in 13-inch, 14-inch and 15-inch formats and the starting price of these gadgets is Rs 94,990.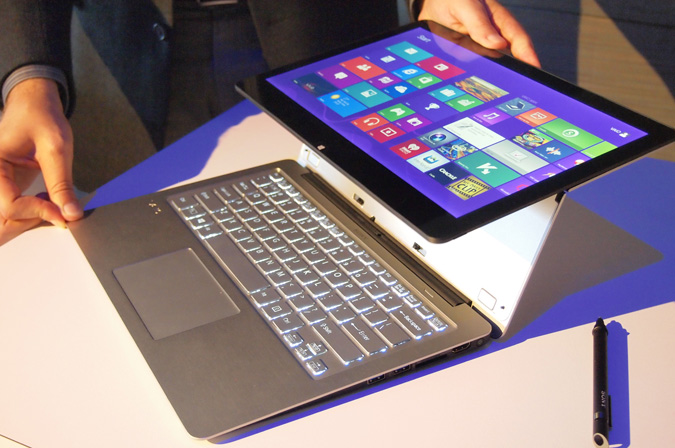 Sony Vaio Flip F13N1A features a 13.3-inch full HD touchscreen and is powered by Intel's fourth-generation processors (up to i7 clocked at 1.6GHz). Equipped within is Intel HD Graphics 4400 with up to 8GB of RAM, with up to 256 GB SSD and a battery that sustains nearly 7.5 hours. It has a 8 megapixel camera at the rear. For connectivity, it supports HDMI, Wi-Fi, USB 3.0 and NFC. The price of Vaio Flip F13N1A is Rs 99,990. The series runs Windows 8.1 Os and derives power off 4th Generation Intel Core i5 & i7 processors, SSD (F13N) and hybrid drive (F14N/F15N). Vaio Flip F15N derives additional power off Nvidia graphics.
The Vaio Flip F14N16 boasts a 14-inch full HD touchscreen with 8GB RAM, up to 750GB hybrid drive, and an HD camera. Weighing 1.31 kgs, it includes a battery that lasts 7.5 hours. It supports various connectivity options including HDMI, Wi-Fi, USB 3.0 and NFC. The price of Vaio Flip F14N16 is lesser as compared to the 13-inch model as it has a hard disk and not an SSD.
The Sony Vaio Flip 15-inch has two variants – the F15N12 and the F15N17. The Vaio Flip F15N12 features a 15.5-inch full HD touchscreen, 4GB RAM, 1TB flash storage and an HD camera. The price tag on it reads Rs 1,04,990. The F15N17 is clocked at 1.8GHz and it's priced at Rs 1,19,990.
Sony's also offering tempting freebies like headphones worth Rs 12,990, unlimited music downloads for a period of three months via Sony Music, and an extended warranty.The new Vaio Flip Series of tablet-cum-laptop shall be made available in stores coming January 29. Keep watching this space for more updates on the Vaio Flip Series.