Engineering Students of K.J.Somaiya are all set to rock the Sepang International Circuit in Malaysia in their 'Jugaad'. Conceptualized and built by a team of students only in their second year of engineering, the 'Jugaad 13' is a single-seater car with guaranteed fuel efficiency.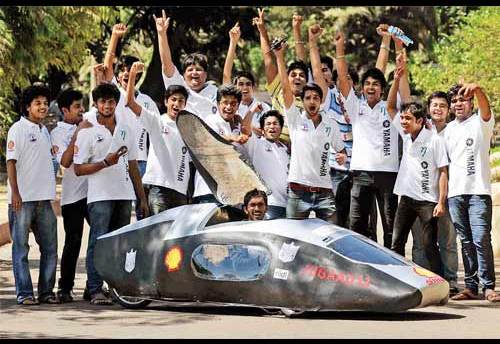 The Team of 40 has been shortlisted to compete against 150 teams from around the world at the Shell Eco-Marathon to be held at Kuala Lampur, Malaysia in July this year. They were supported in this endeavour by Yamaha, Nyasa and Om Freights. Students from the electronics and mechanical departments of the institute combined efforts to build the locomotive. The three-wheeler is powered by a 35cc engine as it zooms up to 40 km/h and uses an electronic fuel injection system which aids economic use of fuel. The team expects that the car that currently promises a mileage of 200 kmpl may achieve the 300 kmpl mark on the asphalt at Sepang.
The Shell Eco-Marathon is held every year in an attempt to drive school and college students to come up with ideas and solutions dedicated towards energy efficiency. After designing and building their cars, teams from around the world are invited by Shell to show how far their cars can go on an equivalent of one litre fuel.
The Contest took its existing form from a friendly wager between employees at the Shell Oil Company in USA over who travels the farthest consuming the least.
Source- dnaindia.com