Pros: An unusual original story that is refreshing,power packed performance and great chemistry between the lead actors, Mr Bacchhan's stupendous baritone
Cons: R . Balki's over indulgence in his own story that makes the movie uncomfortably stretchy.
Director/Story: R.Balki
Starring: Akshara Hassan, Dhanush,Amitabh Bachchan
Runtime: 2 hours 36 minutes
Plot –
Danish, a small town boy eats, drinks and breathes cinema. He nurtures just one innocent dream in his heart; to become an actor on the big screen. Everyday, from his mother's small shop he watches buses leaving to the city of his dreams – Mumbai, he also wants to leave but his mother keeps faking her illness to keep her son close to her.As he grows up he spends his time in a small video parlor watching movies and tributing them with his small performances in the congregation of his own shadow. One day his mother dies and he leaves for Mumbai with tears in his eyes and a subtle smile on his face. He sets for Mumbai to complete the one journey he prepared for, all his life. This is where 'Shamitabh' begins.
Wait one second.Did i tell you that Danish is a mute by birth !
Story/Screenplay
R. Balki's talent lies in weaving unusual stories around endearing characters.His characters are not the ones you would meet in everyday life but you will still find a way to connect with their emotions. Balki constructs wonderful sequences for establishing the ground for his characters, but nearing the climax the sequences become stretchy and over indulgent,which essentially means there are quite a few scenes in the movie which overstayed their welcome.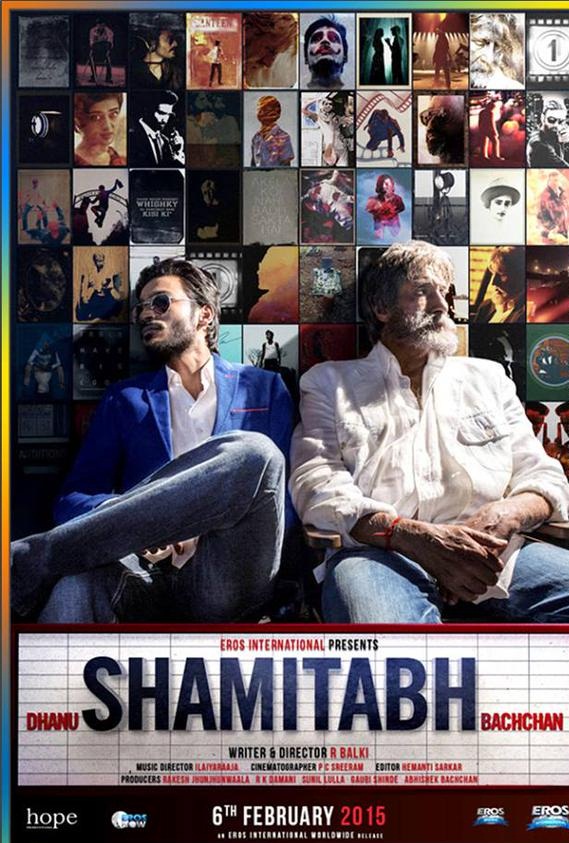 Direction
Balki a long time Ads director has laden the entire the movie with unusual product placements, most predominantly Lifebuoy, which I feel could have been avoided to keep the focus on the movie and on the characters.
Also despite having stupendous material at hand ,which he has himself written ,the movie becomes very superficial and doesn't go into details.
For example the rise of 'Shamitabh' or more essentially the ascension of 'Shamitabh' to stardom is very unrealistic. Balki should have spent more time establishing such critical points rather than over indulging in character sequences.
Dialouges
The dialogues of Shamitabh are very well crafted and provide the much-needed humor in the excessive length of 2 hours 4 minutes.
One of my favorites being 'Ye awaaz to ek kutte ke Mu se hi cache lagegi' (This baritone voice will even make a dog look good).The monologue by Amitabh where he attributes the relation of 'Whisky' and 'Water' is also well written .
Music
Illiyaraja's music is commendable and exudes the passion of the characters, their rise and their fall. Overall a good album with more hits than misses.
Performance
The power packed performance by its lead characters is what makes Shamitabh an entertaining affair for most of its runtime. Dhanush easily balances Mr Bachchan and his baritone with his deft expression and body language. Their chemistry which lights up like a christmas tree is enigmatic and also the movie's high point.
Full points to the performances by the leads. Akshara Hassan should also be commended by not making a fool of herself in front of a legend like Mr Bachchan and a talented actor like Dhanush.
Final Word
Shamitabh is one of the most unusual and original  stories that Bollywood has offered in the recent times which is also laden with brilliant performances by its leads but at the same time it is stretchy and superficial at the screenplay which pulls it down from the potential level of a  Classic to One-time-watch.