In today's time when the youth which comprises the majority of country's population is realizing its responsibility and rights, is also fuming with anger. The anger is justified, and quite obviously so! Prakash Jha who has always been dealing with the political issues in his films, has come up with 'Satyagraha' on a very appropriate time. This film, where he talks about the  recently happened, very famous  social movement, strikes the correct chord!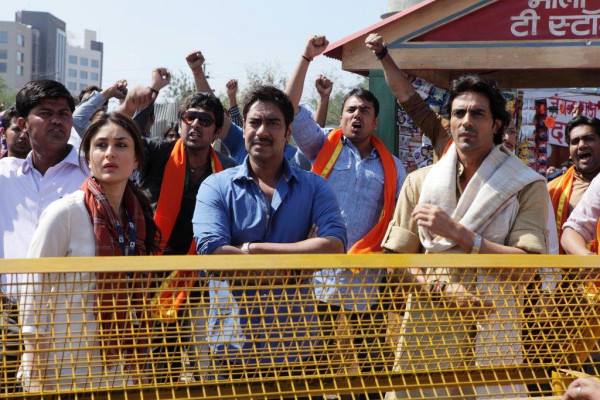 Dwarakanath(Amitabh Bachchan) leads a principles based life, runs a school and is a respected person of his town 'Ambikapur'. On the other hand, Manav (Ajay Devgn) is a self made business man who always aims high in life and is ready to do anything in order to achieve it. In the first half  script takes the support of the delicate relationship between the characters of Dwarakanath and Manav to get built up. Manav is a dear friend of Dwarakanath's son Akhilesh. Akhilesh's death in a road accident gives rise to a series of events, which initially do revolve around it but later on take entirely different when Dwarakanath rejects the pay cheque from home minister Balram Singh (Manoj Wajpayee) demanding the ordinance. The emotional fight for the rights slowly makes way for a grand movement of 'Satyagraha' against the system. An ABP news reporter Yasmin (Kareena Kapoor Khan) , A local leader Arjun (Arjun Rampal), Dwarakanath's daughter-in-law Sumitra (Amrita Rao) are the other members of the 'Jan Satyagraha' momevement who have their own contribution to it.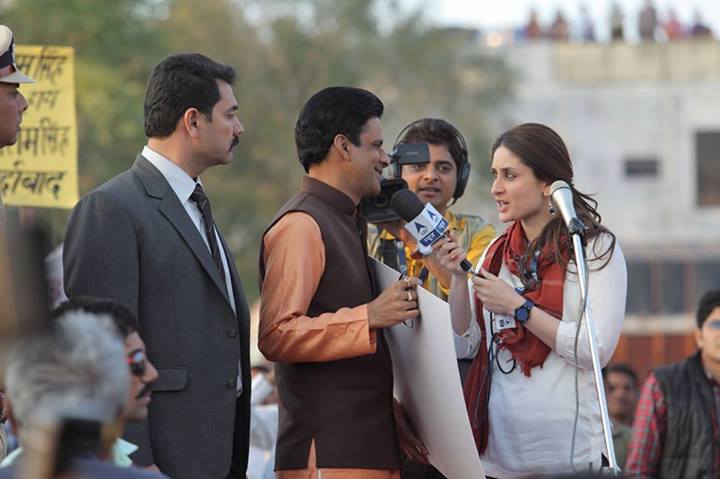 Film borrows influences from the 2011 Ramlila Maidan Protest. It looks like director's  interpretation of the whole act. It does not create a new perspective but somehow displays the clarity of his ideologies and vision, and thus film comes up with honesty and a golden heart. But does the novel intentions make into an equally good movie. Well, the answer is yes! Satyagraha is one of best works of Prakash Jha in recent times. The script is different and original. And the strong cast only makes it better. While Ajay Devgn, though not at his best, is intense, Kareena Kapoor Khan apart from looking super gorgeous does her part very well, Manoj Bajpayee too shines with his evil smile and wicked act, its without a doubt an Amitabh Bachchan film, his performance has all, intensity, innocence, brilliance, honesty, well quite as usual. While the performances are good,more could have been added with a stronger characterization. Dwarakanath's Gandhian principles are clear but we leave asking for more depth, also Manav's transition too could have been better etched. Some loopholes and confusion in the first half are made up for when second half sets for an engrossing watch. Sometimes, the placing real life incidents as it is takes over the thought process, while the other time you can find the pleasant reference to Bapu when Big B is called as 'Dadu'.
This kind of film can be very to-the-face and over the top in the name of aggression or can opt out for complete subtlety. Satyagraha is neither the both. It is a very true  film for 'today's time'. Go for it!
Overall rating: 3.5/5