Love has no limits, and Raanjhanaa makes sure that it shames infinity where it concerns the heart. And yes, true to its meaning, it's all about an obsessed lover.
The story is centered around Kundan (Dhanush), a Tam-Brahm rooted in Benaras, who falls in love with a Muslim girl Zoya (Sonam Kapoor) at first sight. Kundan follows her day and night, and forces her to fall in love with his 'consistency', but as soon as Zoya's parents come to know of her 'Hindu' aficionado, they pack her off to Delhi for higher education. Distance fails to dim the love-lit heart of Kundan, but it breaks to pieces when upon her return 8 years later she tells him about Akram (Abhay Deol), her college senior and party leader in Delhi with whom she's in love. Zoya seeks his help to marry Akram, and keeping aside all his grievances, he sets out to unite them in a bond of love. Things start going crazy henceforth, with an untimely death and a political campaign veining their way into the story.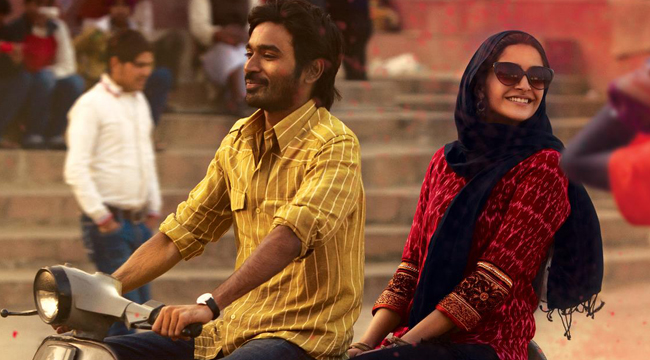 For its 140 minute long screen-run, Raanjhanaa isn't exactly what it promised to be- a blithe desi love story. Rather, the first and second halves of the film offer two different themes to the same plot, and while the first part sticks to the spirit of undying romance, the second half has more to do with gibberish political ideologies that define the shocking climax. My personal favorite scene from the movie is where the 'youth political group' sits down to discuss why Kundan became a 'thief'. A total parliamentary troll this!
Dhanush hits the bull's eye (pun intended) with Rannjhanaa. The national-award winning actor delivers a supreme performance as the lovestruck Kundan, though he does struggle mouthing Hindi dialogues. The director does cut him slack by offering a few Tamil lines to mouth as well. And as good a launchpad this was for the actor, it has us expecting a whole lot more from him in his next. Sonam Kapoor gets an appealing role, and she makes full hay of it. Apart from these two, it's Swara Bhaskar and Mohammed Zeeshan Ayyub who awe us with their brilliance. These two talented actors literally are the cynosure of every scenes featured on them, and overshadow the lead pair. Abhay Deol does fine acting natural for the brief duration he enjoys in the film.
The director of photography has done an excellent job in capturing the rustic scenic beauty of Varanasi, with ample amount of color splashed in every single frame. Aanand Rai's direction is good too. A R Rehman's music pumps up the mood to a certain extent.
This film defies all known cliches of Bollywood romance, and is a worthy watch.
3/5