Play Synopsis:
Set in the smoking area of a corporate building over the period of a week, a bunch of office employees discuss appraisals, politics, and relationships, all the while dealing with their stress, fears, and insecurities. The play is a comedy about the rat race, how we cope with it, and what we put our throat and lungs through in the process. Dhumrapaan has been selected for META awards 2017 with nominations in 5 categories namely best play, best script, best actor, best director and best supporting actor.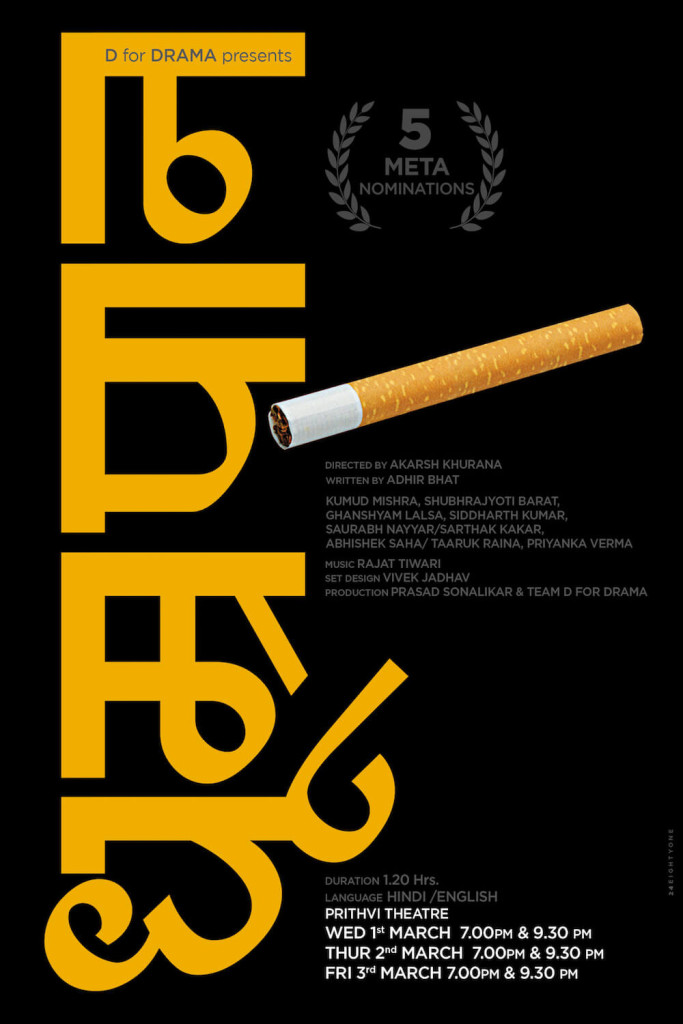 Cast and crew list
Directed by: Akarsh Khurana
Writer: Adhir Bhat
Music: Rajat Tiwari
Costumes: Dilshad Khurana
Stage Design: Vivek Jadhav
Production & Backstage: Prasad Sonalikar, Priyanka Verma, Navendra Mishra and Vinayak Mishra
CAST:
Kumud Mishra
Shubhrajyoti Barat
Siddharth Kumar
Ghanshyam Lalsa
Sarthak Kakar/Saurabh Nayyar
Abhishek Saha/ Taaruk Raina
Priyanka Verma/Meena Singh
About the group:
D for DRAMA was formed in 2013 by Kumud Mishra, Ghanshyam Lalsa ,Saurabh Nayyar . Unlike a traditional theatre group where writers or directors invite actors to work with them, D for drama's vision is to collaborate with a different set of writers and directors, creating unique works in theatre each time.
About the director:
The proprietor of Akvarious Productions, Akarsh Khurana has produced over 60 plays in the last 16 years, of which he has directed over 20. Akarsh won the award for Best Director twice at Thespo (India's premier youth theatre festival) for his early work and went on to be nominated four times for Best Director at the Mahindra Excellence in Theatre Awards (and win once for Stage Design). Six Akvarious productions have been nominated for the Mahindra Excellence in Theatre Awards and two have won the prestigious award for Best Play. He has also written screenplays for feature films (Krrish, U Me aur Hum, Kites, Krrish 3), directed two cineplays and a television movie for Anurag Basu (Real FM). He has recently co-written a web series called Tripling for the folks at TVF.
Watch Dhumrapaan:
1st March 2017 – Wednsesday – 7.00PM and 9.30PM IST – Prithvi Theater, Mumbai
2nd March 2017 – Thursday – 7.00PM and 9.30PM IST – Prithvi Theater, Mumbai
3rd March 2017 – Friday – 7.00PM and 9.30PM IST – Prithvi Theater, Mumbai