Piku, made by the writer director pair of Shoojit Sircar and Juhi Chaturvedi, who also gave us Vicky Donor, is a simple movie about Piku, an independent, working woman. She's fully committed to taking care of her hypochondriac, aging dad, who believes a good bowel movement in the morning is the spiritual panacea the world needs. Adhering to all his whims and fancies, Piku has seen life pass her by, and all she asks for in return is a little sensitivity from his blabbermouth of a father. That's until they decide to take a trip to Kolkata, and how the taxi service owner-cum-driver becomes an important cog in their dynamics is what makes the rest of Piku.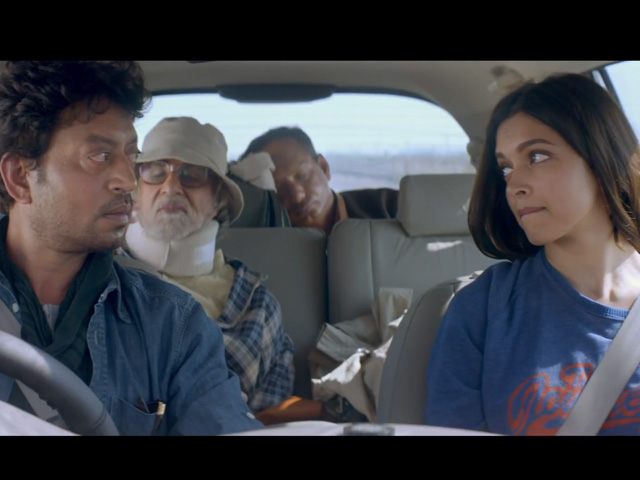 First of all, Sircar and Chaturvedi, who seem to be obsessed with the bodily fluids, do a commendable job of infusing soul into an area of the human anatomy long neglected in our films. Deriving song lyrics about the heart is easy, deriving humour about the shits is easier. But deriving heart from the shits, that's where the duo succeeds. Just watch how their entire family, while dining on a sumptuous meal, is obsessed with talking about digestion and excretion, and tell me you don't connect to it instantly. And if you lose your hunger when your date discusses her dad's shit specifications with the family doctor, you are automatically adjudged to be a jerk. Sometimes, movies really are too real, even for life.
And full points to the editor and cinematographer of "Piku", who along with Sircar's superb handling of the conversations, makes this reality wholly believable. The conversations don't always have a head or a tail, or a foreground or background. You might be watching someone else on the screen, but might actually be hearing on some others characters discuss tonight's dinner behind the camera. It makes you feel you are right there with this crazy bunch of motion obsessed maniacs.
And what a crazy bunch of actors to play this crazy bunch of maniacs. All three of them, hands down the best in their respective groups right now, give a performance they all should be proud of. Irrfan Khan, who described this movie as "the lunchbox changed into a cab" on Twitter, brings all of his raw affability into a part that really needed a dose of measured normalcy, and makes Rana Chaudhary, just like his character Monty from Life In A Metro, a hero that you are surprised you want the heroine to end up with. I really wish we get to see more of him in mainstream Bollywood that he actually does for the role and not the payroll (Gunday, Thank You, New York). Amitabh Bachchan, playing the senile Bhaskor, is lovable, without actually trying to make you care about him. And he never goes over the top to play an old man on the brink of a ventilator, always keeping it under control. But the show-stealer has to be Deepika Padukone. She brings strength and vulnerability to Piku, who can only be described as 'angry young woman for the world, papa ki pari hu mai for her dad' and makes Piku her own, literally. The first great female performance of the year has arrived, finally. I think, only Kangana Ranaut now, playing a double role in the sequel to Tanu Weds Manu, has some chance of beating her this year.
Just like life, "Piku" is in no hurry to make sense. It starts, people talk, people fight, they stop talking, then again start talking, repeat two times, then love happens, maybe, then something else happens, and then the movie ends. It's as simple as that. The biggest fights happen over a bottle of salt. Medical history helps the girl decide who might be a better candidate. And helping her dad with a good bowel movement is what wins her over.
I am going with a 4/5. This was a movie that completely caught me off guard. And however successful Baby and Badlapur were, they didn't make me want to go right back in. Only Dum Lagaa Ke Haisha did it better. I say, complete the trilogy of bodily fluids, Shoojit Sircar and Juhi Chaturvedi, but yes try to move a little north. But even if you don't, I don't think I will mind.
Overall Rating – 4/5