Disclaimer: This post reveals a plot point from Game Of Thrones, Season 5
George R R Martin would be proud of this one. Game of Thrones producers David Benioff and D.B. Weiss recently revealed that President Barack Obama (First of His Name) had asked for an advance copy of the hotly-anticipated sixth season. Now, reporter Vanessa Golembewski has filed a request under the Freedom of Information Act, demanding that the episodes he received be made public.
Speaking at the Game of Thrones premiere in Hollywood earlier this week, Weiss said, "Finding out the President wanted advance copies of the episodes — that was an 'Aha!' moment." Confirming that they fulfilled the president's request, Benioff added, "When the commander in chief says, 'I want to see advanced episodes' — what are you gonna do?"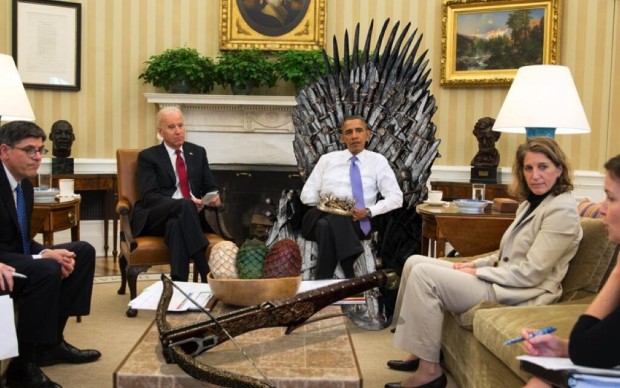 Lady Vanessa of House Golembewski knew exactly what she was going to do. In a post on Refinery29, a lifestyle and entertainment website, the journalist explains that she has filed a request under Freedom of Information Act, asking to see the President's exclusive screeners.
Here are a few choice extracts from her messianic declaration:
"I decided this was a perfect opportunity to test the limits of the Freedom Of Information Act. If the president — and by extension, our government — is in possession of a file, surely that file is subject to my request to see it as a U.S. citizen."
"I know it's a stretch. Firstly, I'm not entirely sure where the Game of Thrones screeners fall in the grey area that is personal property of a government figure. Secondly, there's a bunch of red tape around the kinds of things you can request in a FOIA. Okay, fine. There are just nine exemptions — and all of them seem like really fair calls. For example, it's off limits if the information in question would threaten our national security. I felt confident that even with these rules, TV episodes were still fair game."
"There was also a field that asked me if I'd like this request to be expedited. According to the guidelines, you should only select "yes" if it's a timely, life-threatening matter. And while I am not in any physical danger myself, I thought about how Jon Snow's life is very much in question and decided that was close enough."
Your move, Mr. President. It would be wise to bend the knee; Lady Golembewski and her bannermen stand at the ready.