After the beautiful Manorama Six Feet Under, Navdeep Singh took his time in returning back to the screen with a movie that in the truest sense satisfies the dictionary meaning of 'thriller'. NH10 is the story of an urban couple who are off on a road trip to a private countryside villa to celebrate the wife's birthday. On road, bad things happen. Here 'Regressive India' shows its face and 'Modern India' gets angry, and in a fit of anger the latter decides to teach the former a lesson. But that's not how you straighten things out in this part of the city, and Modern India learns that the hard way.
Several social issues like casteism, corruption and honor killing find their base in the script, and it's dangerous how people still believe in the purity of it all that they are ready to compromise on humanity but not on these norms.
There's a logical concern during the finale (and I emphasize on 'concern') where the 'action' is happening in a populated section of a village during early morning, somewhat 4 am-ish, and yet no single soul opens door to even check what's happening. It could be the fact that people don't really care of others' affairs and pretty much keep to themselves, as the film pointed out in several occasions, but human curiosity is not so weak as to not even open a window and peek at the unfolding event. Are these events really THAT indifferent? Or are people just used to it?
This is one of the best female-centric film that doesn't cry "female empowerment" as frequently as Rahul Gandhi. It mildly brings into account that women are dependent on men, but proves in its run that men are equally dependent on women.
The grunge employed in the visuals coupled with the jilty electronic score works wonders for the film. We are talking of long silent moments which seduce you and then choke you till your eyes almost pop out, then leave to return to breathe in some life only to choke you out again.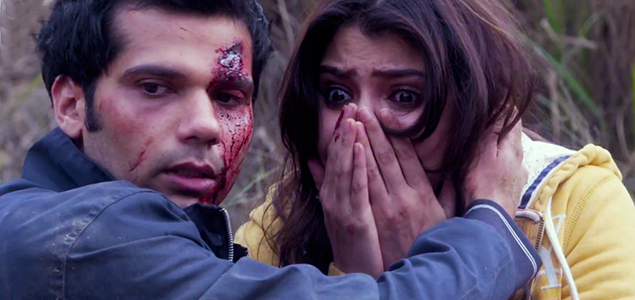 This film also has one of the strongest climax ever, and also contains one of my favorite Bollywood badass moments. Sharma injures a goon pretty bad, puts her weapon aside, lights a cigarette and smokes it slowly while watching the guy suffer before putting him off for good. No nonsensical dialogues, nothing.
The screenplay accounts for a handful of characters. Anushka has delivered her career-best performance in NH10 and is pretty secure of herself. In her corporate setting when a jealous colleague comments on how women employees get it easy with their bosses, she subdues her anger and packs in a subtle yet fitting reply. Also, she is infuriated with derogatory remarks she reads on a lavatory door, which further moves to prove the point how men believe women are lesser. A recent comment, not related to this film, but still relevant – "Hindu culture is the best culture as it does not have place for a woman." ( – India's Daughters) Wow!
Neil Bhoopalam too has a good role. His character is one who can't just stand in a crowd and witness wrongdoings, and stands up against it. Darshan Kumar is villain supremo – brutal and full of hatred. A strong personality whom you'd love to hate.
Blood, gore and a big middle finger to regression – NH10 packs it all. A recommended watch.
Overall Rating : 4/5