So Netflix has made its way into movie-crazed India with 'competitive plans' to increase its global footprint. The online video streaming service has revolutionised entertainment industry in the west, but will it make the same dent in India where people have a much cheaper (sometimes free) option at accessing pirated movies?
Netflix's Chief Content Officer Ted Sarandos in a press conference confirmed that Netflix is entering almost every single country in the world but China, and at the latest Consumer Electronic Show he was delighted to announce the launch of Netflix in India and 130 other countries. Presently the service is available in 60 countries.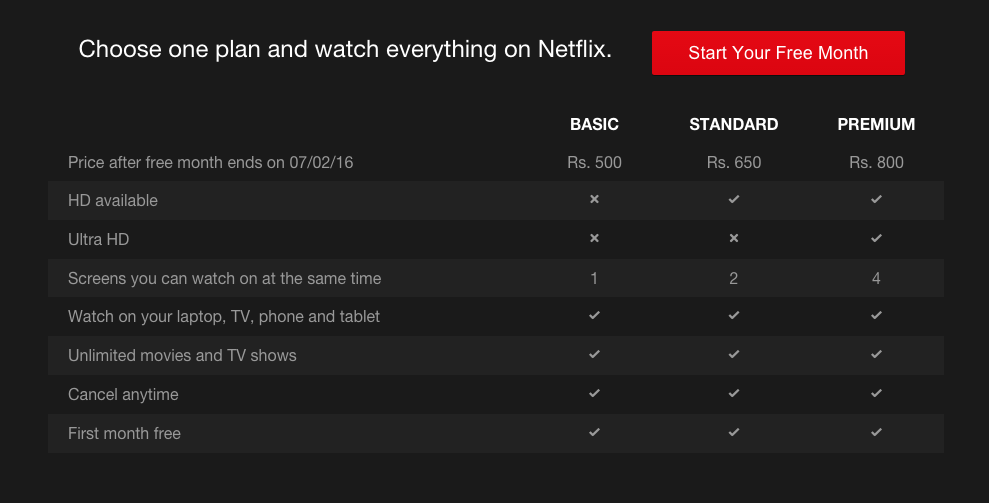 Presently, there are three monthly plans that Netflix is offering its Indian customers. The cheapest and the most basic plan starts at Rs 500/-, but there's no high-definition (HD) content which most of the metro-netizens are used of by now. With this plan you can avail the service on just one gadget. A slightly better plan with HD content and better video quality is available at Rs 650/-, and subscribers may access the service on two devices. The premium plan of Rs 800/- lets users also access the ultra-HD videos and stream content on 4 screens at a time. The first month is free for all.
Presently, the Netflix India catalogue features lesser than a 100 Indian movies (as expected, mostly Bollywood) and TV shows. While there's no exact count on the number of titles Netflix has actually released in India, it's definitely not close to what's being offered in US. Some of the loved Netflix originals including Marvel's Daredevil, Master of None and Narcos are available, other popularly followed shows are still missing. We'd love to see a thousand more titles added to the list within half-2016.
Indians, who missed on this news earlier, Anurag Kashyap's epic Gangs Of Wasseypur will be streamed via Netflix as an 8-episode series, all episodes running close to an hour. This means no unwanted censorship, and for this reason alone I may end up subscribing to the service.
One major concern that still prevails – varying broadband speeds across India. While the metros have super high-speeds broadband service available, Netflix really needs to worry about the smaller cities where high-speed internet is still a luxury.