Cast: Irrfan Khan, Jimmy Sheirgill, Mahie Gill, Soha Ali Khan, Raj Babbar Directed By: Tigmanshu Dhulia Overall Rating: 4/5
With an apt follow-up to the inglorious prequel, Tigmanshu's untamed Saheb Biwi Aur Gangster Returns orbits around immense dissatisfaction in the areas of life, with bigger ambitions mercilessly gunning down their smaller counterparts, and betrayal reigning over righteousness.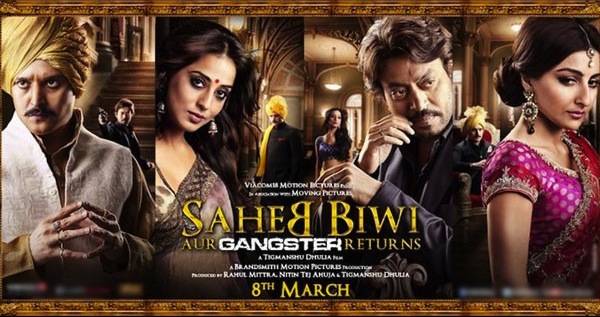 Having shared a gory past, the crippled Aditya Pratap Singh (Jimmy Sheirgill) and his sloshed wife Madhavi (Mahie Gill) keep to themselves within a scarred domain, and this uneasily silent sphere ruffles following the arrival of Inderjeet alias Raja Bhaiyya (Irrfan Khan) and his love Ranjana (Soha Ali Khan). The blue-blooded Aditya Pratap nurtures promise of a second wife in Ranjana, and to uphold this royal privilege he blackmails her father- Thakur Birendra Pratap (Raj Babbar)- who has no other option but to give in to Saheb's demands. The fuming Birendra appoints Inderjeet to completely wreck Saheb's life. And huge wreckage occurs indeed as the story shifts a higher gear. Only if the climax had been more dynamic.
Tigmanshu beautifully weaves in the rusty political fabric the threads of power, passion, honesty, lust, seduction and betrayal. The dark humor that forms base for this spirited drama is undoubtedly remarkable. Irrfan is marvelously arresting as the royal neglect and thug, and it's his upstart character's dry cocky humor that makes you miss him when he's not in frame. Jimmy Sheirgill has regal and sophistication written all over him, justifying very well the powerful Thakur status. Soha comes off as a vulnerable royal beauty, and portrays her part with a certain softness. Mahie Gill as the turbulent Madhavi carries herself well, but could've definitely been better. Raj Babbar as the callous ruler (who's ready to use his own daughter for the political throne) is brilliant.
The film rides high on sunny moments, and the scene depicting politicians catching up with porn is a real roar. Talk of being inspired by "a true story". Do catch this movie for smart performances & an astute story, and you won't be disappointed. Recommended.