Cast: Atul Kulkarni, Sagarika Ghatge Directed By: Satish Rajwade [highlight]Overall Rating: 3.5/5[/highlight][divider]
In Premachi Goshta, director Satish Rajwade keeps stuck to the path he followed in his the ever lovable Mumbai-Pune-Mumbai. No extraordinary storyline or major twists, but just some meaningful characters loaded with realistic dialogues.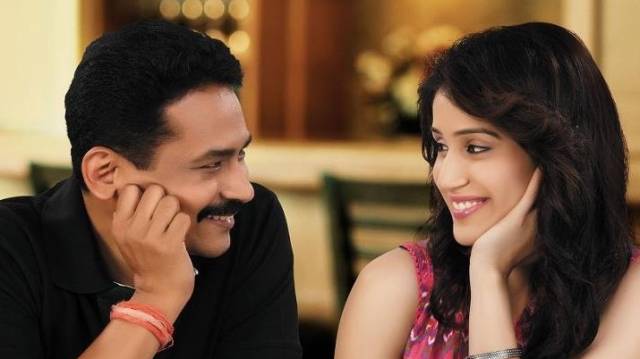 This tale of love starts in a courtroom with Ram (Atul Kulkarni) and Sonal (Sagarika Ghatge) throwing their philosophies at each other in their accidental first meet itself. Ram is a scriptwriter who has to spend his time translating South Indian films while he actually wants to tell his own original story which he believes in. He is also a strong believer of love, with certain pre-conceived notions about it and thats only why he is waiting for the return of his wife even after a divorce. Sonal too is a victim of two failed marriages. Little they know that they are going to cross their paths again. And they have an even a more litle idea that their paths are never different. Sonal is appointed as an assistant at Ram's office and their bond grows in the creative world of script writing. The pre conceived notions seem to be failing in the cases of both Ram and Sonal and love makes a surprise entry. But at the same time their exes re-enter into their respective lives. The second half gives answers to the questions raised regarding this very love and the clumsily tangled relationships.
And films has answers for many questions! Not just about the happenings in the script but also about relationships. The conversations between the characters are the highpoints, Many of us can relate with them. It can even help us in solving our problems and or may prevent them. And the credit is to the director. In such kind of films where the story is nothing more than ordinary, which may be intentional, characterisation is the strongest pillar. Director has certainly brought out the depth in his characters. While Atul Kulkarni is effortlessly natural as usual, Sagarika too manages a decent performance. Performances and conversations make up for the slow pace of the movie most of the time.
You can't plan love neither can you restrict it. It stays beyond relationships. This message 'Premachi Goshta' tries to convey from time to time. It deals with a serious issue of divorce but never does it raises the tension level a bit nor does it become idealistic. Simplicity is one thing this film can be adored for. It is as simple as its name. Watch it with your loved ones!