Cast- Surya, Kajal Agrawal, Sachin Khedekar Director- KV Anand
Overall Rating- 3.5/5
It's great to see cinema fiddling with concepts. After last year's 7am Arivu, this is Surya's second stint with the idea of genetic-science, in a totally different backdrop and a totally different rendition, and is definitely more entertaining. And when the story includes stuff like Genetically Modified Food (GMF), Olympics, the US-USSR Cold War, DNA-designing — one gets a proper hint that this is no run-of-the-mill stuff. It holds promise of much much more. Already hooked, aren't you?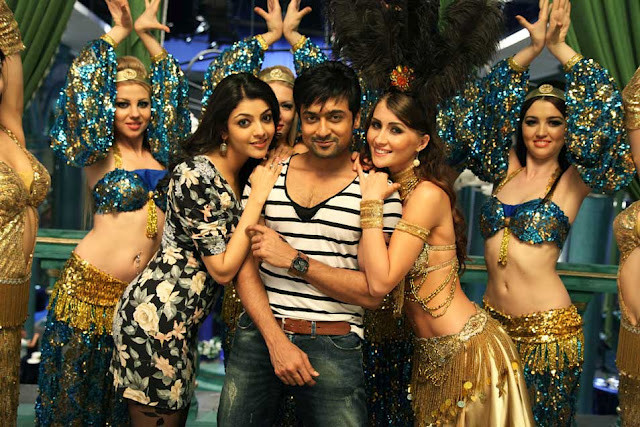 A genetic-engineer Ramachandran (Sachin Khedekar) is turned down by the Indian government for putting his experiment to practice, but never once does he give up pursuing his trade. A failed attempt at creating a superhuman results in his wife (Tara) giving birth to conjoined twins who enjoy a common heart. While the twins (Akhilan and Vimalan- both essayed by Surya) grow up with two totally different personalities (the former being quite carefree, and the latter being high on grey matter), Ramachandra raises a baby-food enterprise called Locus Lacto, which turns out to be exceptionally successful thanks to the product "Energion", thus attracting a lot of attention from his competitors. A Russian journalist Volga starts probing into Energion's secret endlessly, and comes out with some very shocking evidences. Enters Anjali (Kajal Agrawal), a Russian translator who makes friends with the twins, and cupid doesn't take much time to strike. The story hereon is high on adrenalin, and twists lie aplenty to unfold.
Performance wise, Surya whips up a substantial amount of cream in this venture, and juggles up emotions quite comfortably. Kajal has a meaningful role to boast off, and voices through most of the second half as the Russian translator. Sachin Khedekar's performance is next only to Surya's. The final scene where he confronts his son proves his mettle as an actor. Harris-Jayaraj's music is lovely, so is the use of VFX one gets to witness throughout the film. Reportedly, motion capture technology (the same used in The Adventures of TinTin) has been employed in this movie- the very first time in Indian cinema.
The genre of action-thriller is a tricky one, and this movie wades through and out of it in flying colors. While the first half is totally memorable for the hilarity shared between the twins, the second half eats the cake with all the thrills, twists, controversies and action (though with a lengthy stunt scene, the second half tends to drag), but it does not affect the movie as a whole. Overall, Maatraan is a perfect entertainer which offers you something new to savor instead of the regulars. Don't miss it.