After marking its global presence, Motorola's top end smartphone, Moto Driod finally reached India under the name of Moto Turbo. This Motorola's flagship smartphone is being displayed on Motorola's India website and the company also splashed a half page advertisement of the new launch in a leading newspaper. India's E-Commerce giant, also Motorola's partner for sales in India, Flipkart, has launched a page and have started accepting pre-orders for the new offering and showing a price tag of Rs. 41999 under it.
Talking about the technical specifications, Moto Turbo is an Android operating system based smartphone which is powered by a 2.7 Ghz Qualcomm Snapdragon 805 Quad-Core processor with 3 GB of RAM. It flashes a 5.5 inch high-definition touchscreen display, and for storage the smartphone is equipped with a handsome space of 64 GB. Moto Turbo will certainly grab eyeballs for its fantastic imaging capabilities, which is made possible by a 21 megapixel front camera with f/2.0 aperture and 4K recording with LED flash.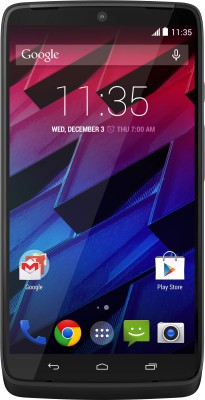 Motorola's smartphones have always been known for their fantastic battery lives. Taking this niche to a higher level, Moto Turbo is going to offer a 3900 mAh capacity of battery which certainly is way beyond what present smartphones in market offer. For those who don't know what this capacity actually means, it can actually let your smartphone perform for 2 complete days on a single charge. Not only this, even the charging is lightning fast. A 15 minute of charging can let your smartphone function for straight 8 hours. Isn't that fantastic?
Motorola's Moto Turbo has many things to offer, also it's certainly going to be a stiff competition of Google Nexus in the Indian market who've wholeheartedly accepted Motorola's pervious offerings viz. Moto E, Moto G and  Moto X.