Maruti Suzuki has launched a special Madhavan Signature Edition of its hatchback Wagon R, rear and back of which is covered in body graphics. The special edition Wagon R has a few add-ons over the regular hatch- a 2 DIN audio system from Kenwood with USB and AUX capabilities, faux leather covering for seats and steering wheel, rear parking sensors with digital display, bluetooth kit, full wheel caps, new door sill guard and a rear roof spoiler.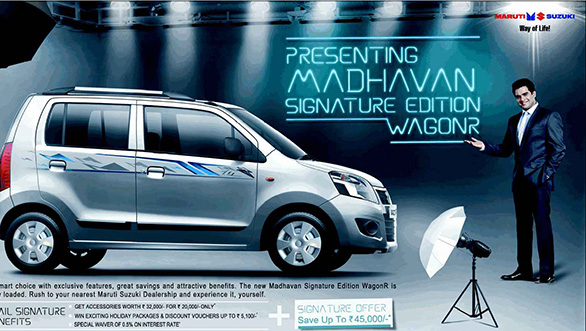 R Madhavan is the brand ambassador of Wagon R, and the Madhavan Signature Edition basically flaunts the additional loaded accessories, which as per the company's claims, costs Rs 32,000/- per unit. For the special edition 'Madhavan Wagon R', buyers shall have to pay Rs 20,000/- more that what they paid for the standard Wagon R, thus gaining from a saving of Rs 12,000/-. Customers shall even get discount vouchers worth Rs 5,100/-, and if they opt to have their car financed, 0.5% relief shall be given on the interest rate. They even have a chance to win additional holiday packages and discount vouchers worth Rs 5,000/-.
Maruti had recently launched the Stringray version, which was again a Wagon R with a few new updates. And not too long ago, Maruti had launched the sport version of Swift, which was again a feature-based upgrade. If 'Madhavan Wagon R' celebrates a great response in the market, we can expect more of such upgrades from the car-maker's stable.