PowerUp 3.0, developed by US-based designer Shai Goitein, upgrades your basic paper airplane via a small attachable propeller and rudder to suffice your need for speed and steering control. Just the thought of it enhances the already enhanced interest I nurture for paper airplanes. Its awesomeness x 10, and that's probably the reason why this project featured on KickStarter already got over 6000 backers.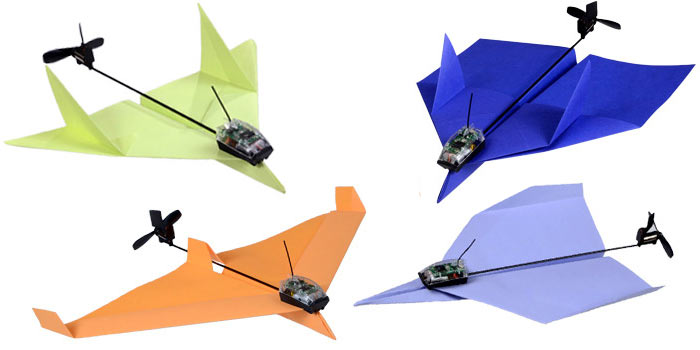 PowerUp 3.0 relies on wireless communication based on Bluetooth Smart technology, and it is through this bluetooth connection that the user steers his paper airplane via his/her smartphone using an accompanying app. It's just like playing a motion-sensor game, where tilting the phone left or right lets users control their paper-planes that flies up to a smashing 60 yards (180 feet / 55 meters). The smartphone app even features a compass, controls for thrusts and shows battery life and range. All the user has to do is build himself a paper plane, no matter how basic, and attach PowerUp 3.0's Smart Module to it with patented clips. Switching on the app connects the plane to the smartphone. The person can then launch their paper-plane to a proper flight high in the sky, and steer the same from their phones below.
Below is an image describing the working of PowerUp 3.0: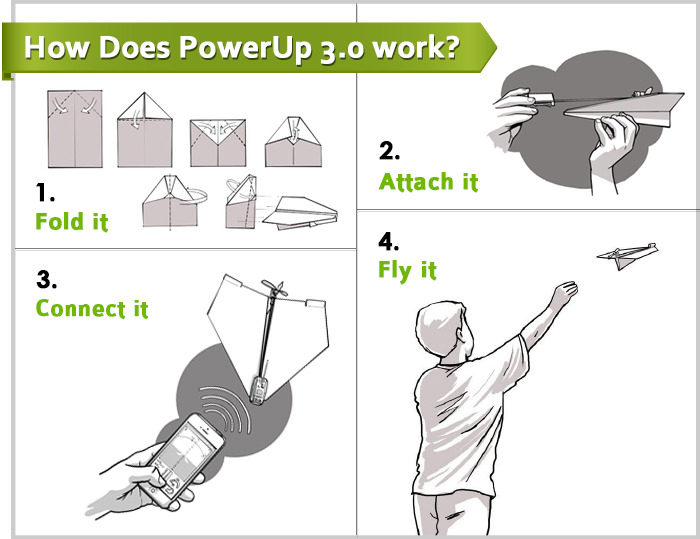 The Smart Module has a carbon-fiber frame, and is powered by a 1000mAh portable Lithium-polymer battery that powers it up for a 10-minute flight. This is going to be so much win among the kids and the geeks alike! There's just an iOS app at present for this, but the developers plan an Android app as soon as their funding touches $1,50,000. The company plans to ship this product in May 2014. Hobby enthusiasts may want to grab this!
Watch the video below to know more about PowerUp 3.0 Smart Module: