A 11-year-old Chinmay (aka Chinu) has lost his father and is forced to adapt to a foreign setting. Personal tragedy aside, what proves to be a bigger challenge for the boy is adjusting in the town, having lived so far in the urban locales of Pune. He's admitted to a new school and is introduced as a scholarship-winner, something that does not go well with fellow peers. Gradually he does make friends in the self-assured Yuvraj and highly-entertaining Bandya, and their boy-gang.
The main theme kicks in when Chinu beats the super-competitive Yuvraj in a race. While the boys are idling along, Chinu strays off from the group to explore the fort. A storm ensures that he take refuge in the fort itself, and after a while when the storm dies down and he gets out of the fort, he realizes that he's all alone and others have already left. He shouts their names, but the strong wind currents kill his desperate shouts.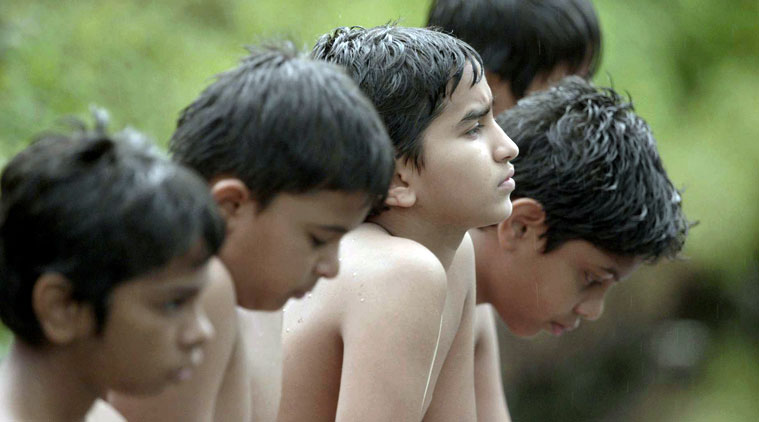 Director Avinash Arun has beautifully blended the many elements of nature with the emotions within the child. It's a blissful setting, really. Very impressive. The silent long takes are immersive much. The way he includes the little details in his frame is admirable. Also the star-cast boasts of a talented lot. The children are simply brilliant in their respective performances, especially Parth Bhalerao and Archit Davadhar.
Nostalgia runs high when they hang out and joke with each other, and one can connect with the child Chinu when his inner conflicts are at play. Trying to make sense of a situation when everything's against you is not easy, and the gradual progression from an outsider to one among them is showcased well.
Uncertainty, emotion and subtle humor are the three important elements that make this film such a delight to watch.
Overall Rating : 4/5