India got it's first Disney Girl: Our very own lovely Sonam Kapoor! So it was very obvious for everyone to look forward to her first Disney film- Khoobsurat.. Turns out it's a total disaster. Sorry Fans! The film is nowhere close to what we had imagined. A sort-of remake of Hrishikesh Mukherjee's 1980 film of the same title starring Rekha, this film has many candy-floss romantic sequences with chunks of melodrama. Although we loved Sonam and Fawad as the protagonists, the film lacked that X element which is necessary to keep the cash registers ringing. Not to mention the clichéd story which was a major turn-off.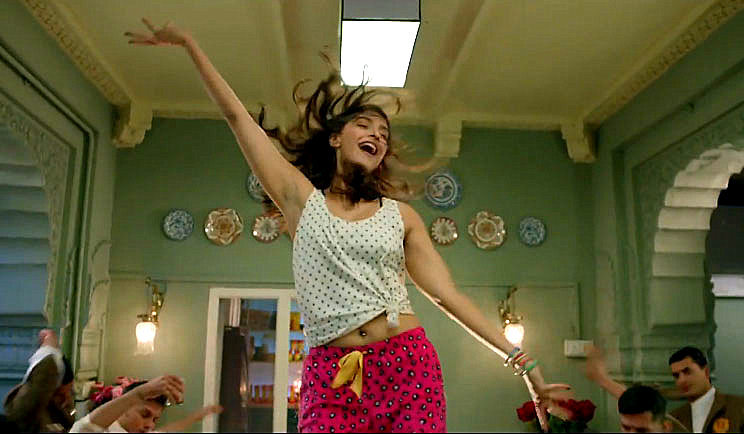 The film revolves around a Bubbly, full-of-life Milli Chakravarty (Sonam kapoor) who has not just one but many streaks of craziness. A physiotherapist by profession, she is a total Delhi birdie who lives with her loud Punjaban mommy Manju Chakravarty ( Kirron Kher ) . On being given the responsibility to take care of the paraplegic Shekhar Rathore, King of Sambalgarh in Rajasthan. A total Royal misfit, she finds herself transported to another royal world with its own offbeat set of rules devised by the elegant Nirmala Devi Rathore (Ratna Pathak Shah). The sprawling bunglow, well-manicured lawns and the everything about that place spelled "Royal". With lots of difficulty and clumsiness, Milli is like a scared door-mouse who is not comfy with her surroundings. Enter then the suave Vikram Rathore ( portrayed by Pakistani actor Fawad Khan) , who is already engaged to a girl in Mumbai but eventually calls off the engagement after taking fancy towards Milli.
The film is a run-off-the mill romantic comedy which has many elements. A funny concoction indeed of a misfit in a royal clan. Sonam is gorgeous as usual and had her acting skills honed! She reminds me of Princess Amelia of Princess Diaries who was a commoner and suddenly discovered that she was indeed a Royal Princess. The clumsiness, sweetness and the attitude is very similar to that of her. Fawad on the other hand carried himself well. The other actors were at the best namely Ratna Pathak Shah aka Maya Sarabhai (Sorry! couldn't control calling her by this name) as the gracefully disciplined Maharani is superb whereas the Kirron Kher plays the lous Mother of Milli. Although, we are tired of seeing her play the loud mother, we cannot think of anyone else portraying it. Aditi Rao Hydari had a minuscule role. The music was peppy and cinematography was good.
The plot went awry many times and had many unrealistic loopholes. A disappointing film although it had its share of fun moments as well.
Overall Rating :2/5