Auto giants Tata Motors Ltd in partnership with India's space consortium ISRO have developed country's first automobile bus fueled by hydrogen. The Bus was rolled out on Monday at ISRO's Liquid Propulsion Systems Centre located at Mahendragiri in Tamil Nadu. ISRO and Tata Motors had inked a Memorandum of Understanding in 2006 to conceptualize and build a hydrogen-powered bus. The breakthrough puts India in the league of select nations where buses driven by hydrogen fuel cell are used. The Department of Scientific and Industrial Research (DSIR) and the Petroleum and Explosive Safety Organisation (PESO) also lent their valuable inputs to this project.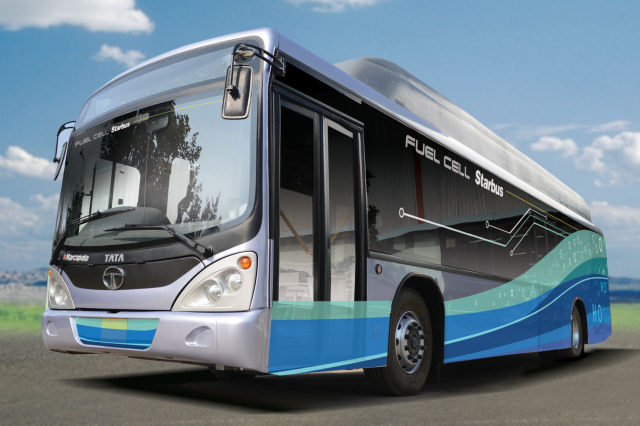 The Automobile is similar to a bus fueled by CNG. Hydrogen is stored under high pressure in bottles that are placed on the roof of the bus. Experts at ISRO have taken all safety precautions with regards to handling hydrogen. The Space agency is known for its expertise in production, storage and handling of hydrogen in both liquid as well as gaseous state.
The vehicle is widely being seen as the future of transportation. With hydrogen replacing conventional fuels, it will significantly reduce India's crude oil imports and lessen pressure on oil reserves too. Also these buses ensure zero pollution. According to V. Gnana Gandhi, Honorary Adviser to ISRO, these buses will join the city bus force in tier-1 cities and will run on hydrogen provided by oil refineries and fertilizer plants. He also informed that as hydrogen is now coming up as an ideal fuel, the Government of India has set guidelines for auto manufacturers with regards to development and deployment of hydrogen-powered automobiles by 2015. Gandhi led the technical team working on this project.
According to statistics provided by a committee constituted by the government under the chairmanship of Dr Kirit Parikh, in 2008-09, trucks consumed as much as 37 per cent diesel, buses gobbled up 12 per cent while another 12 per cent was exhausted by agro-machineries. The deployment of these hydrogen-driven vehicles will certainly help control and bring down the numbers above.