I try to explain. There are no martyrs here. It is a war between equally corrupt forces. I see their eyes glaze over. I realize they do not desire a complicated answer.
Set in the background of Shri Lankan war, this debut novel by Nayomi Munaweera is a beautiful attempt to portray the human characters grappling with their lives in the midst of war. It's a tale of three girls Yasodhara, Lanka and Saraswati. To present the unbiased and two sides of war, narration is done by two characters Yashodhara and Saraswati, former Sinhala and latter Tamil.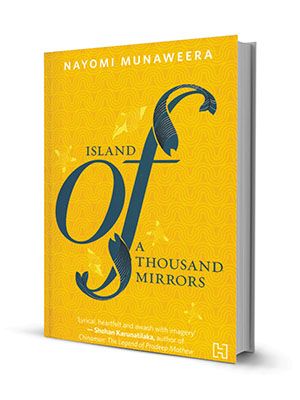 The story begins in a two-storeyed house of Yasodhara, with upper storey being rented to a Tamil family. The description of the main leads' childhood, of Sri Lankan island, its culture and people is poetic and your imagination succeeds in surpassing the geographical boundaries. To lend authenticity to the characters of Yasodhara and Lanka, author gives us a peek into the family background of Yasodhara's parents. Shiva, a boy from a Tamil family living in upper storey is best mate of the two sisters. The civil war has broken out, and their parents are trying to teach them the differences between the two communities, but as children they are not able to understand the brutal realities besmirched by war. As the war affects the family, their parents decide to immigrate to America.
Here, Nayomi brings out the commotion in the lives of emigrants wittily and effortlessly. For example as they are trying to walk and talk like Americans, the narrator says, "We have become the most privileged and God-blessed persons on the planet, Americans, thank you very much, not Ameri-can'ts." But as they grow up, they miss the island, warm seas, their relatives and Shiva.
Quite late in the novel, begins the narration of Saraswati, an intelligent Tamil girl. Her family dreams of a normal life as Saraswati prepares for teaching certification. But destiny is cruel, and she is forced to join LTTE. The emotional, mental and physical turmoil ultimately turns her into a ruthless and ferocious militant for only thread that sustains her life is the dream that coming generations will be free and happy. But narration on Saraswati's part is weak, and it could have been stretched a bit more by delving into the political and militant details of LTTE.
Ending is touching, but revealing it here would render the reading useless. Overall, the pandemonium of human emotions, love, separation, pain, affection between siblings, is portrayed with strong and beautiful lines. For someone who has loved and enjoyed the strong narration of authors like Arundhati Roy and Khalid Hosseini, the book is a must read! I'll end it with a few lines I loved " Behind them they leave: looted, soot blackened houses, the unburied or unburnt bodies of loved ones, ancestral wealth, lost children, belonging and nationalism. It is the list that stays bitter on the tongue, giving birth to fantasies of Retribution, Partition, and Secession."
Overall Rating: 4/5
About the author:
Nayomi Munaweera was born in Sri Lanka and grew up in Nigeria. She emigrated to the United States in her early teens. She lives in Oakland, California. Island of a Thousand Mirrors is her first novel. For more information on the author, please visit www.nayomimunaweera.com.
You may buy this book from Flipkart here: