Mobile major Micromax, today become the first Indian mobile maker to launch Windows Phone with unveiling of its two mid budget Windows based smartphones named, Canvas Win W121 and Canvas Win W092. Micromax is always known for their lowest prices and this time also, these Win series phones are expected to be the most affordable Windows phones with their price tag reading Rs 9500 and Rs 6500 respectively. It is expected that these phone will make their entry into the market from first week of July, and will be available across all the major retail outlets along with the e-commerce portals.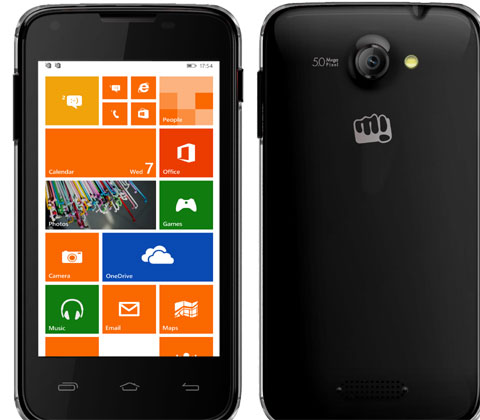 Micromax Canvas Win W191 features a 5-inch HD IPS screen display fitting two cameras in it, one's on the back with 8 megapixel capacity and a flash, and the other one on the front side with the capacity of 2 megapixels. It also includes a 32 GB expandable memory option along with a battery of 2000 mAh capacity. Looking at Canvas Win W092, it's fitted with a 4-inch IPS screen display with 1500 mAh battery. This phone also features two cameras on both rear and front side with capacities of 5 megapixels and 2 megapixels. Both the phones feature Dual SIM functionality.
Micromax have been working with Qualcomm Technologies since a long time, and this time also both the Windows based phones are powered by Qualcomm's Snapdragon 200 processor, which will run Windows 8.1 version of OS. Designed to support an exceptional level of integration between hardware, software and services on a Windows phone, Qualcomm promises its processor would swiftly operate business and entertainment applications with the combination of rich multimedia, high-performance graphics, power efficiency and reliable wireless connectivity.
As per a word from Sanjay Kapoor, Chairman, Micromax,'The Company's innovative demeanour and belief in strong partnerships has culminated in this launch powered by Microsoft's UI enriching platform and Qualcomm's next generation processor. Micromax will continue to introduce products and services that simplify and enhance the data experience of consumers across markets.' Also, Bhaskar Pramanik, Chairman, Microsoft India, who was present unveiling function said, "With Micromax Canvas Win, Windows Phone is now available to a whole new group of consumers in India, who are looking for innovation and value."