Shankar as a director tends to translate psychological split in his protagonists on screen, mostly through a double role (sometimes triple!). Also, he is a director who's known to bring out the villainous elements affecting the productivity or harmony of the society. And while he is grandiose in creating his Harvey-'Two Face'-Dent, society is not what he is trying to save in 'I'. This time it is personal, and revenge shall be served to the wrong doers.
'I' is fable-like, like Shankar's interpretation of Beauty and The Beast. The characters in the film are either good or bad, so the boundary gets set early on between the hero and the villains. Lingesam aka Lee (Vikram) is a gymtard contesting for the Mr. Tamil Nadu title, and is a huge fan of an ad-model Diya (Amy Jackson) who keeps appearing in magazines, TV ads and billboards. By chance Lingesan gets to meet Diya, and lands an ad spot with her. Here onwards the film gets slightly ho-hum, and we just wished that a story this squishy squeezed a little more juice.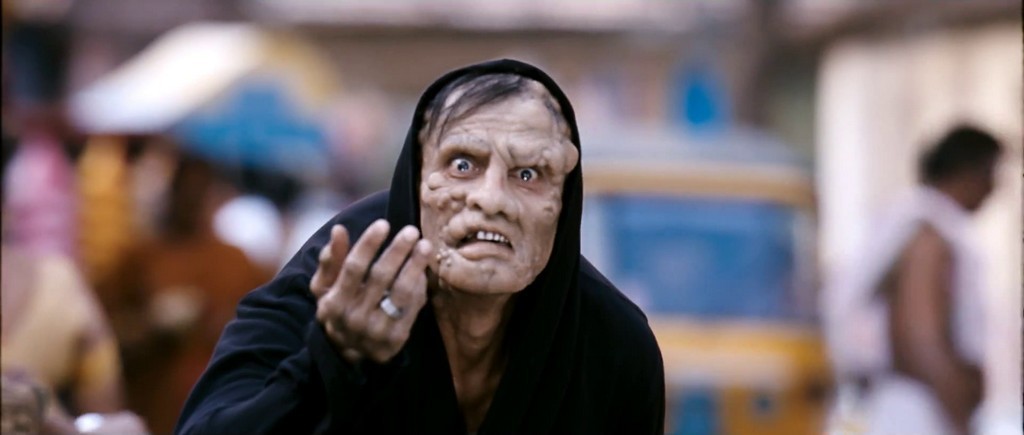 Visually the film scores high on many occasions – the Mersalaayiten music video, where the film technicians get to work their magic with well-imagined visual effects, though these effects don't add any meaning to the film; the bicycle fight scene in China, where local goons attack our lead in bicycles, and in a very Skyfall-like situation chase him on roof tops. I just wish this action scene was better choreographed.
Vikram gets the maximum screen space in the film, and he utilizes it very well. The hunchback avatar is his most prominent one in the film, and one can how difficult the make-up for the same would have been. This was the character I least liked while watching the trailer, but it turned out to be good. Vikaram steals the show in a bodybuilding contest musical round, where he has to dance and show his body to the tunes of Azeem-o-shaan shahenshah. This was hilariously good. The transgender love angle thrown in the film could have been done without. Such a patience-tester. Also, A R Rahman composed songs were just adding to the lag.
There's a gymming screen at the beginning where Vikram overexerts himself and falls unconscious. 'I', in its attempt to be too many things at once, follows suit.
Overall Rating : 3/5