Lawn-mowing won't be a time consuming task anymore, all thanks to Honda's 1,000cc Mean Mower which recently entered Guinness World Record (GWR) books as the fastest lawn mower running at 186kmph in Tarragona, Spain. The Mower's speed was registered through a 100-meter speed trap monitored by official timers. To qualify for the GWR regulations, that land mower had to record the same run in both directions within one hour, while cutting grass. The average speed was then calculated off these two runs, and the average came out to be 187.6kmph. The test was conducted by Piers Ward of Top Gear Magazine.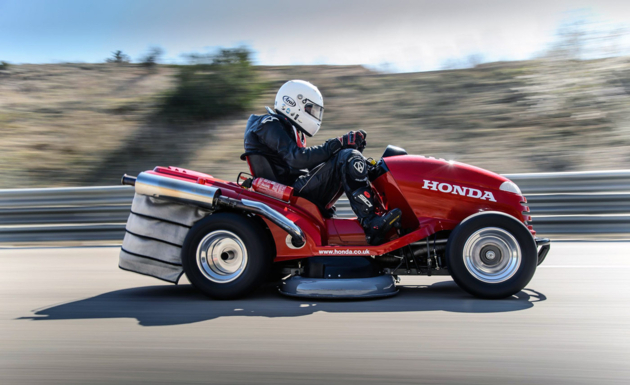 The Mean Mower was designed and developed in 2013 by Honda's partner in BTCC (British Touring Car Championship), Dynamics. With a 1000cc motored heart within its chest, the metallic beast boasts a top speed of 209 kmph. Honda claims that the vehicle can hit 0 to 100kmph in just 4 seconds.
The functional mower features two electric motors on the cutter deck, spinning 3mm steel cable at 4000 revolutions per minute to barber the grass. While the vehicle may traverse the field at 100kmph, you may be disappointed that ther mower-functionality goes down at speed above 25lmph. The blade stops functioning over this limit. The mower even has a custom-made paddle shift six-speed gear system, and additional features include a Cobra sports seat, a Scorpion exhaust system and a steering rack off a Morris Minor.
Watch this video –