The new Global Slavery Index published Thursday exposes around 30 million people across the world living in modern-day slavery, of which 14 million (that's almost 50 percent) people belong to India. The Global Slavery Index 2013 was composed Australia-based rights organization Walk Free Foundation after surveying 162 nations, and factors defining modern slavery included- debt bondage, forced marriage, sex trafficking and employing children in military among others. This 30 million count by the Foundation is the highest estimate ever, even United Nations estimates approximately 21 million people as victims of forced labor.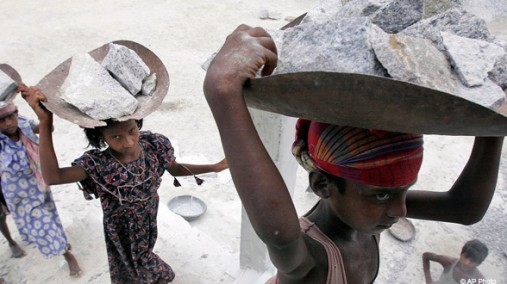 India is closely followed by China (3 million), Pakistan (2.1 million) and Nigeria (0.7 million). Together with six other countries, they account for nearly 75 percent of people enslaved on a global scale, the report stated. The report explained India's ranking saying that it was mostly due to the exploitation of citizens within the country itself, and it added that the risk of enslavement in India varied from state to state.
The highest proportion of slaves registered belong to Mauritania, followed by Haiti, Pakistan and India. The index that's based on ten years' worth research on slavery across the world was compiled by a team of four, assisted by twenty-two experts and advisers, and is the inaugural edition of what is to be an annual report on slavery.
Established in May 2012, the Foundation is based in Perth, and was found by philanthropist Andrew Forrest, who's regarded by Forbes as Australia's fifth richest man. The new index on slavery is backed by prominent personalities, likes of whom include former US Secretary of State Hillary Clinton, former British Prime Minister Tony Blair, philanthropists Bill Gates and Richard Branson.