In a tragic news, Joan Laurer, better known to wrestling fans as Chyna, has died at her home in Redondo Beach, California. She was 45. Although the official cause of death is as yet unknown, police do not suspect foul play.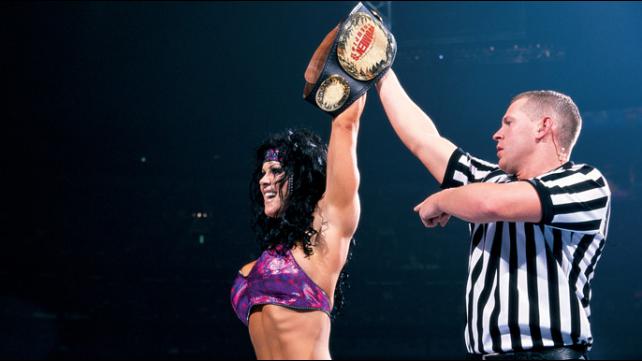 A message on Laurer's website confirmed her passing: "It is with deep sadness to inform you that we lost a true icon, a real life superhero. Joanie Laurer aka Chyna, the 9th wonder of the world, has passed away. She will live forever in the memories of her millions of fans and all of us that loved her."
It was clear as soon as Chyna joined WWE (then WWF) in 1997 that she would be a star. At a time when women in wrestling were just eye candy, Chyna debuted as a bodyguard for Degeneration X, a group that included Triple H and Shawn Michaels. Here was this extraordinarily built woman serving as hired muscle for some of the company's biggest stars. Nothing of the like had been seen before, and arguably, nothing of the like has been seen since. It was one of the Attitude Era's defining images.
Chyna went on to become one of the all-time greats in women's wrestling, winning the Women's Championship at Wrestlemania X-7 in 2001 and vacating it only on her exit from the company a few months later. Most notably, she was the first mainstream female performer to be featured in rivalries with men. The list of male wrestlers she tangled with includes The Rock, Stone Cold Steve Austin and The Undertaker. She was the first woman to compete in the Royal Rumble as well as the King of the Ring tournament, even winning the Intercontinental Championship on two separate occasions.
The word 'trailblazer' should not be used lightly, but that is unquestionably what Chyna was. In 2004, Trish Stratus and Lita would main event an episode of Raw. In 2010, Beth Phoenix would enter the Royal Rumble and eliminate The Great Khali. In 2012, Kharma would enter the same match and go on an awe-inspiring rampage before being eliminated by Dolph Ziggler. In 2015, WWE would launch a much talked-about 'Diva Revolution'. Before all these women, there was Chyna, treating referees like rag dolls, smashing Chris Jericho with a pedigree, defeating Jeff Jarrett and tossing Mark Henry over the top rope. If you were to sit down and make a list of the ten most influential women in wrestling history, Chyna would unquestionably make the cut.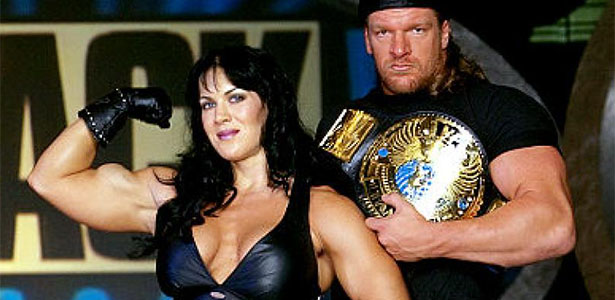 Unfortunately, Joan Laurer's life was to take a dark turn. She left WWE in controversial circumstances in 2001. She would subsequently allege that then-boyfriend Triple H (Real name Paul Levesque) got her kicked out of the company after he began secretly dating Stephanie McMahon, the daughter of WWE Chairman Vince McMahon. WWE and Levesque have denied these allegations, claiming the two sides were simply not able to agree to terms on a contract renewal.
Following her exit from WWE, Laurer continued to dabble in wrestling, working briefly for New Japan Pro Wrestling in 2002. She then posed for Playboy magazine and made a foray into reality television, appearing on VH1's The Surreal Life in 2005. Over the years, she struggled with substance abuse and her attempt to try and clean up her life was featured on Celebrity Rehab in 2008.
In 2004, Laurer and then-boyfriend Sean Waltman (WWE's X-Pac) released a sex tape called 1 Night in Chyna, capitalizing on Paris Hilton's similarly titled escapade. The tape was enormously successful, prompting Chyna to begin a mini-career in pornography. She would appear in a further five porn films between 2004 and 2011.
Triple H, now part of WWE's top management, alluded to Chyna's adult film career when asked why the wrestler hadn't been inducted in the WWE Hall of Fame yet. Questioned by Steve Austin on his podcast last year, Triple H replied "From a career standpoint, should she be in the Hall of Fame? Absolutely. It's a bit difficult, though, and this is the flipside of the coin — I've got an eight-year-old kid, and my eight-year-old kid sees Hall of Fame, and my eight-year-old kid goes on the Internet to look at Chyna. What comes up? And I'm not criticizing anybody. I'm not criticizing lifestyle choices. Everybody has their reasons." WWE came under some criticism for the comment, considering that X-Pac himself has been featured on WWE television numerous times since the tape with Chyna was released, even attending the Hall of Fame ceremony on numerous occasions.
However, following Laurer's death, both Tripe H and Stephanie McMahon posted tribute messages on Twitter, leading to speculation about a posthumous Hall of Fame induction:
I just heard the tragic news that @ChynaJoanLaurer has passed. She was truly a pioneer in our industry, and she will be missed. #RIPChyna

— Stephanie McMahon (@StephMcMahon) April 21, 2016
Someone who wasn't afraid to blaze her own trail & create a path for those who would follow. A pioneer whose star shined bright. #RIPChyna

— Triple H (@TripleH) April 21, 2016
Whether or not Chyna will receive the honour is still in question. What is not in question is that the wrestling world has lost a true pioneer today. May she wrest in peace.