After successfully rolling out the Android and iOs app to its users, Indian e-commerce giant Flipkart finally launched its official app for Windows Phone subscribers. The app is compatible with all Windows devices running Windows 8 and higher. To up the popularity of Flipkart Windows app, the company is offering Rs 100/- off on any purchase worth Rs 1500 or higher made through the app for the first three days post-launch. The offer is valid till Friday, April 11th. The website is welcoming all feedback and suggestions to make the app better and more user-friendly.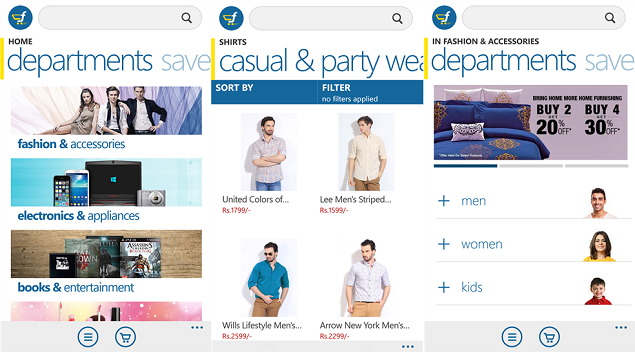 The app design has been specially made for the Windows platform, integrating the Metro user interface, thus allowing for easy browsing of products via a pane found in the bottom of the interface.
You may download the free 2MB-sized app from Windows store here. Commenting on the app launch, Saran Chatterjee, VP – Products and Mobile Strategy at Flipkart stated that with the advent of affordable smartphones and internet-enabled devices, the number of people who shop online has increased substantially. And since Windows Phones enjoy a large user base in India, this move simply expands Flipkart's reach.
Features of the app as stated in Flipkart's landing page:
* Easy navigation through different departments to find products * Search for products, categories or brands * Quickly narrow down search results using Sort and Filter functions * View product images up close with the zoom feature * Read reviews that other users have written about different products * Pay by Cash on Delivery, Credit/Debit Cards, EMI, NetBanking, Flipkart Wallet and Flipkart eGVs * Track status of your order * View recently browsed products and their details * Access your saved cart and user details by logging in through Flipkart, Facebook or Google login