Age of Wearable Technology
This is the age of wearable technology and we will see myriads of products targeting this segment in the coming 5-10 years. Some might be useful some might not. Though we have seen few of such products, mostly smart watches, launch for the public in the last two years, none of them really could hit the bulls eye. Many reasons could be attributed to the failure of wearable devices not clicking with the consumers but one of the most significant one is the 'Apparent Need of such devices'. Till today none of the companies which have made wearable technology products have been able to communicate a strong enough reason to compel users to buy such products.
Apple's I-Watch sold few million pieces but many of the users stopped using them after a few weeks as the watch failed to give a significant value for its price. In simple terms wearables have simply not provided any value in the life of the consumers and for the price that the companies charge it simply doesn't make sense to buy such products and if you end up buying them, they will soon end up in your closet or on Ebay for resale.
These wearable though have loads of features that other products (non-wearables) offer but the fitness tracking ability of such devices give them an edge over non wearables. It's true that a smartphone with its Accelerometer, altimeter can provide some basic functional fitness tracking but we all know its a pain carrying a heavy smartphone especially while working out in the gym or running on the track. So smart watches have an edge here over smart phones but their price tag and sensitive nature makes them un-preferred for anything that deals with sweating or outdoor workouts. You just don't know when it starts raining or when the sweat from your hands ruins the band of your expensive smart watch.
Enter the Dedicated Fitness Tracker
Now that we all understand the basic premise of why smart watches have clicked let's talk about the 'dedicated fitness trackers'. They make up for most of the weakness of their smarter and expensive brother(the smartwatch) by shedding the extra weight and the extra price tag. They are also more durable because only minimalistic electronics is present in them and they are more or less resistant to water, at least to some extent (Rains and Showers). So such trackers offers more value to the consumers and the risk of damaging them is also fairly reduced.They are light-weight,simplistic and offer value to a consumer's life, at least the fitness aspect of it.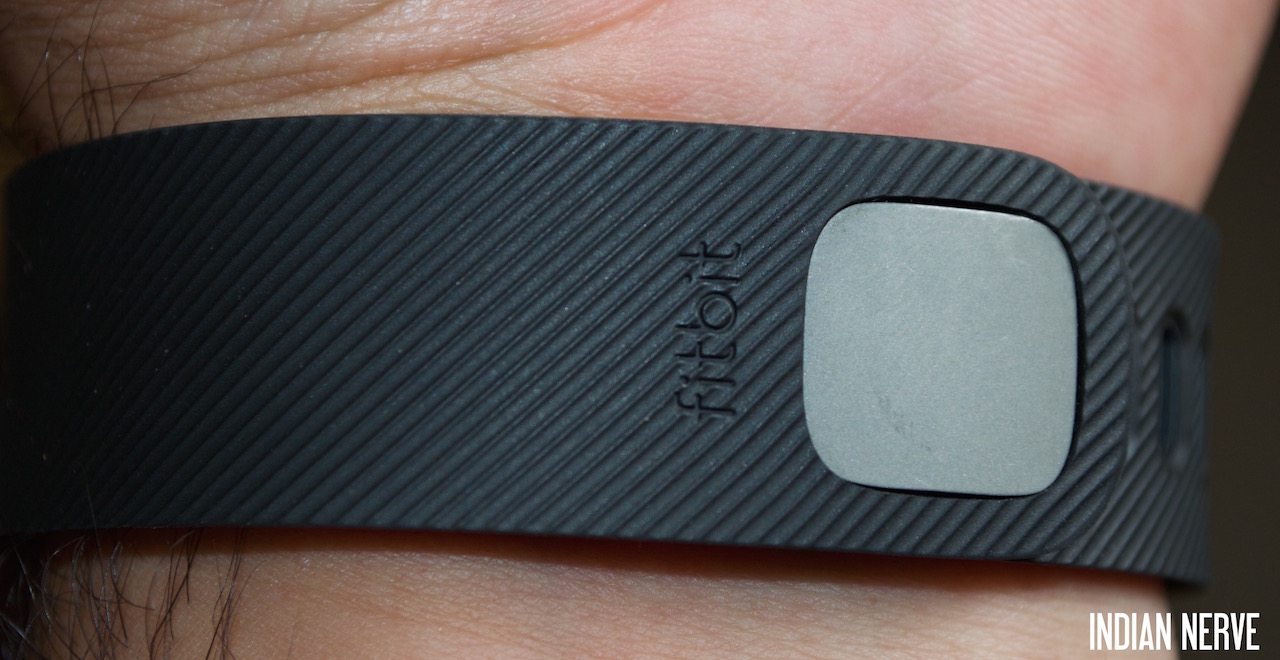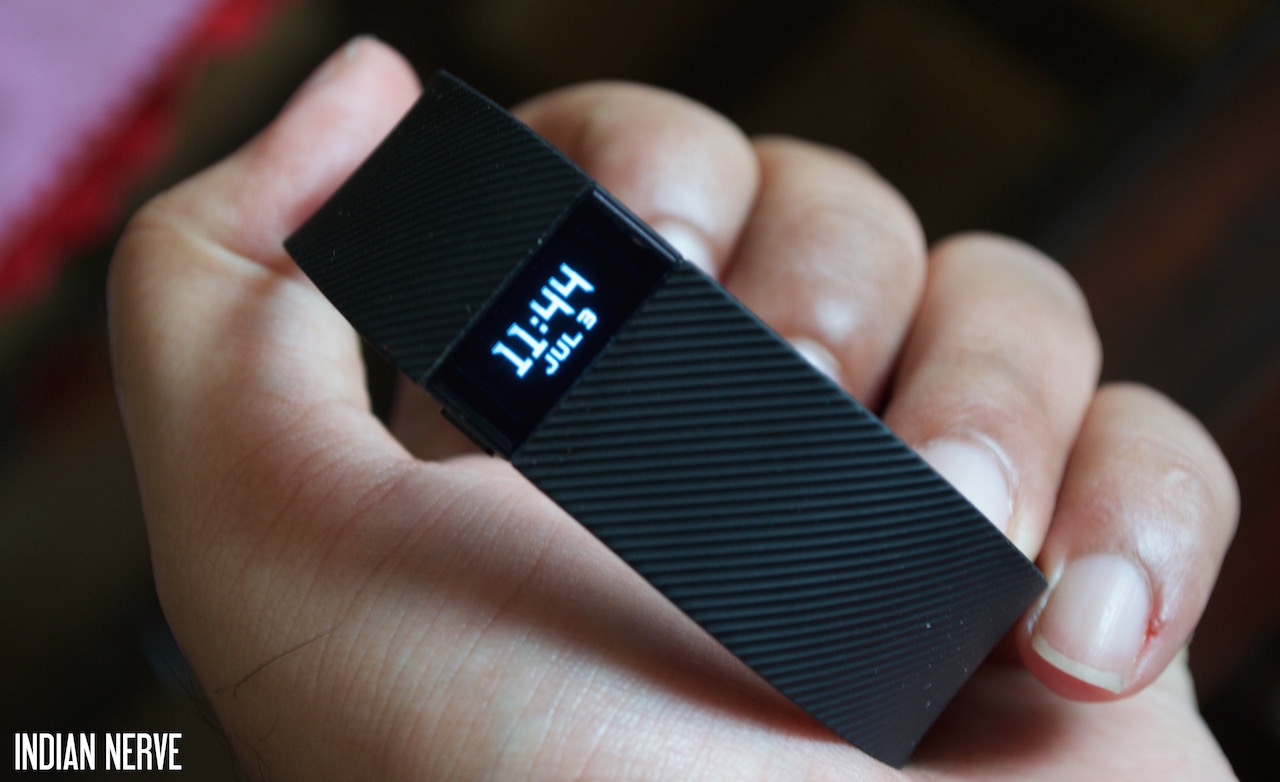 One such fitness tracker is the Fitbit Charge, which I got my hands on exactly a week before. So for the last seven days I've been using the Charge continuously 24×7 to track various fitness activities of my day to day life.The Charge tracks the number of steps, calories burned (while sleeping + in the day), floors climbed via the inbuilt barometer which detects the change in atmospheric pressure , distance travelled in the day, which is calculated by the no of steps taken * (multiplied by) average stride length and of course it also has the basic functionalities of a digital watch such as time, date, alarm and stopwatch. Apart from all those features it also shows caller id information on its OLED display.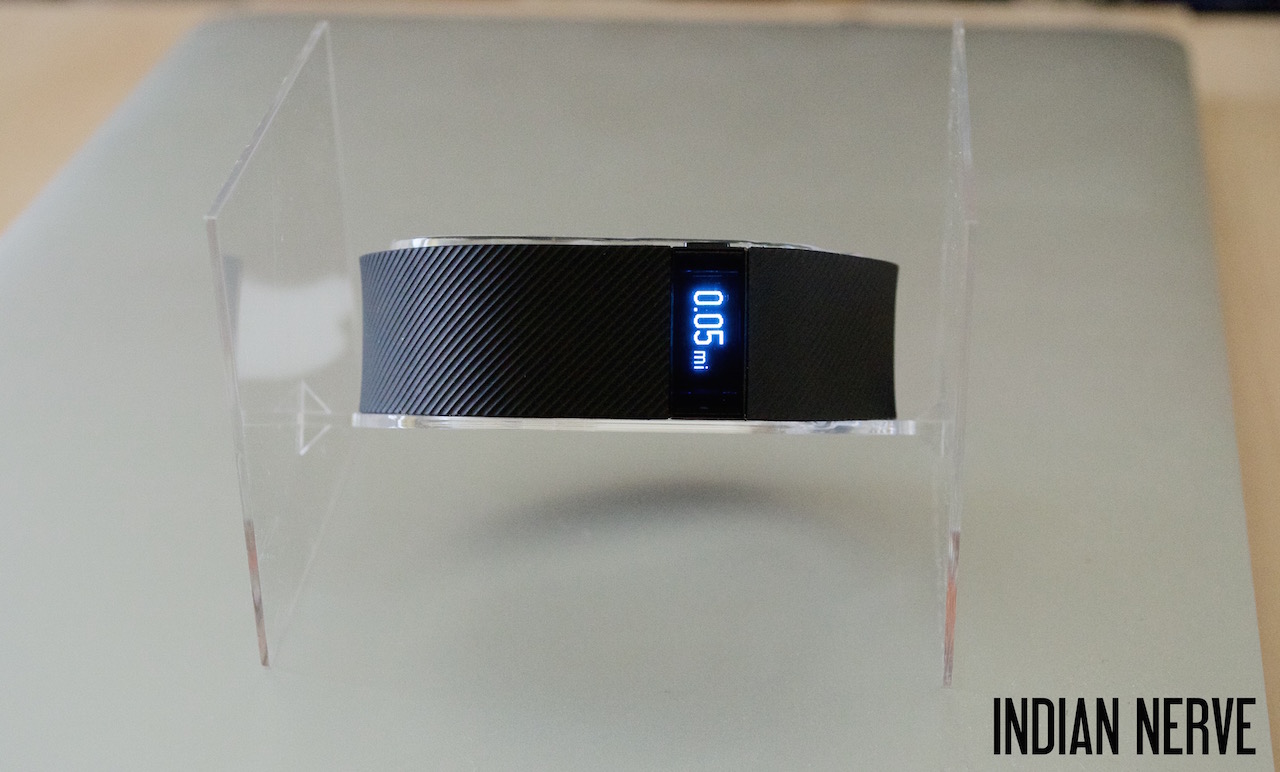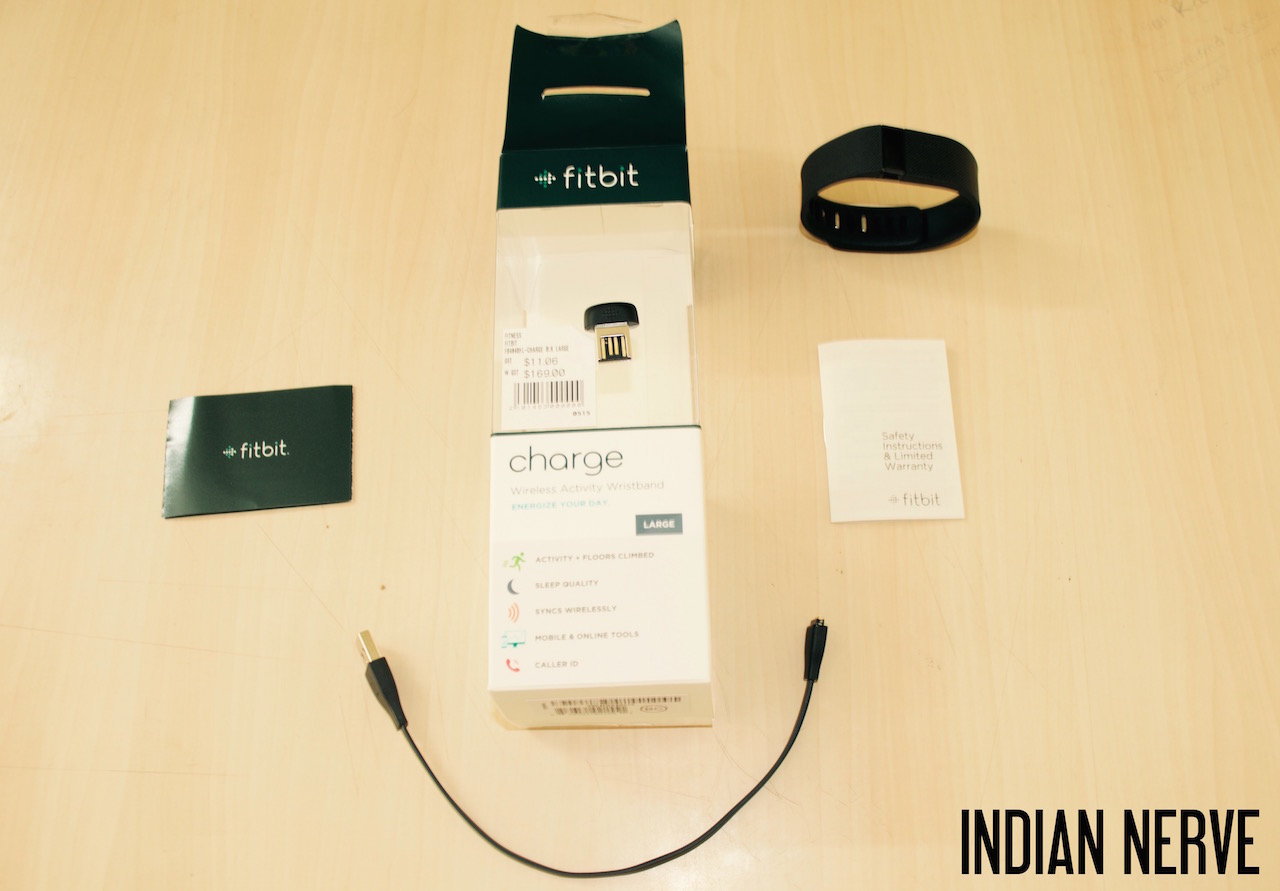 Not a Solo Performer
The Fitbit Charge tracks all the metrics and publishes them on the OLED display which rests on the elastomer band but that's only 50 % of what you get, the other half of the functionalities are with he free FITBIT mobile app,which can be downloaded from your mobile OS's respective app store.The app shows tons of metrics which can be scaled by week, day or even year.The online dashboard, which shows metrics like Hours slept, Calories Taken in Vs Calories Burned, Total Distance Travelled, Total Steps Taken. All these on a beautiful and a very functional user interface where every data can be seen at the granular level, which can be analyzed to make improvements in your fitness plan.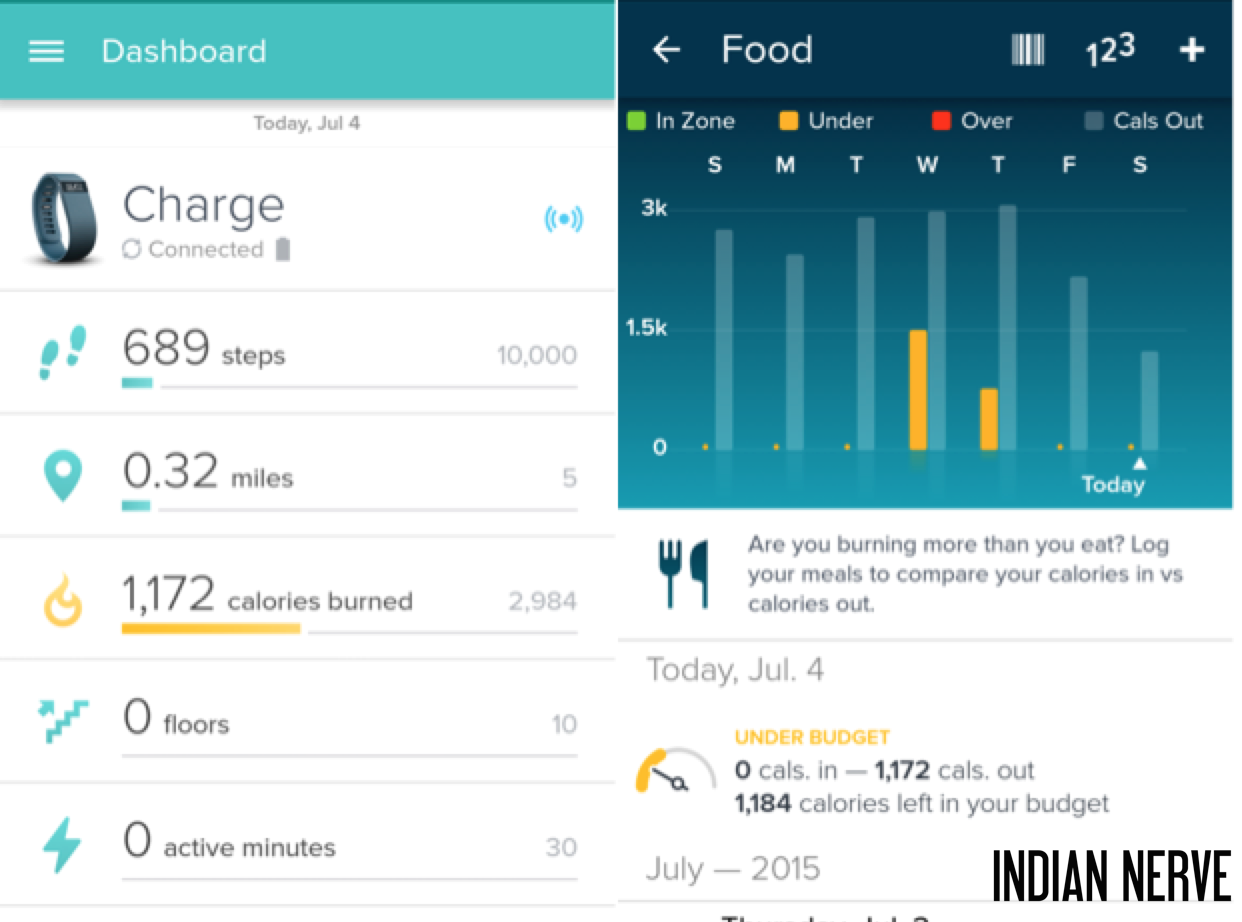 There is an functionality to log your food which then automatically calculates the calorie you are taking in with every meal and yes it does recognize the calories in your 'Aloo Paratha' or 'Gobi ki Sabji ' or a bowl of rice and lentils. So Indians can make use if the calorie logger just as their western counterparts do. Also, the mobile app lets you log your water intake in a day and suggests whether you are over or under the required amount that you should have. Apart from those functionalities the app/dashboard offer the concept of badges, which act as motivators for reaching targets. There are various badges that you unlock for completing 10,000 steps or climbing 20 floors in day. If you have friends who also use Fitbit products you can compete with them in reaching targets, which will help you stay focused on your goal and also make your journey enjoyable.
The charge also lets you set silent alarms, which wake you up by mildly vibrating on your wrist. This not only wakes you up gently but also does not disturb.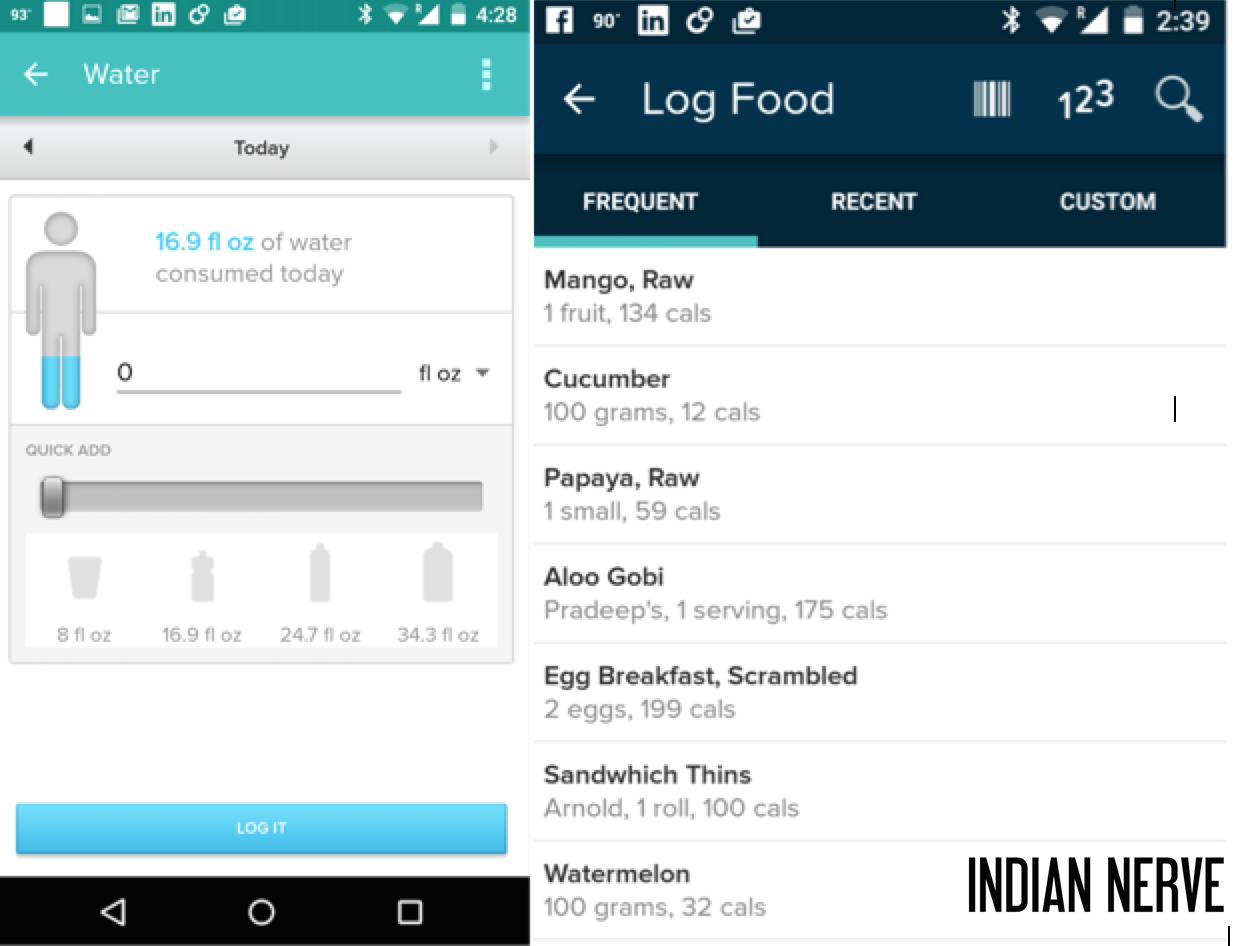 Accuracy of the metrics and Battery Backup
The charge has the 3-axis accelerometer,Altimeter and Vibration motor which capture all the metrics calculated and then transfers the data to the paired mobile via bluetooth (low energy). Most of the metrics are very accurate as i have tested them in various scenarios.
Running 5 Kms on the treadmill which roughly meant taking 6000 steps at an average stride length of 0.81 Meters (running) resulted in 4.90 Kms, which is fairly accurate. The calories burned during this test run also was close as the treadmill showed 361 calories burned and Fitbit data suggested 349 calories burned. So the data on the Fitbit Charge is reliable. Also, the sleep tracking is fascinatingly accurate, it not only shows the hours slept but also shows how many times a person is restless or wakes up during sleep. A tumultuous sleep suggests something is wrong with the body. Every morning it also shows the efficiency of the sleep which is calculated taking into account the restless/awake time during the sleep time.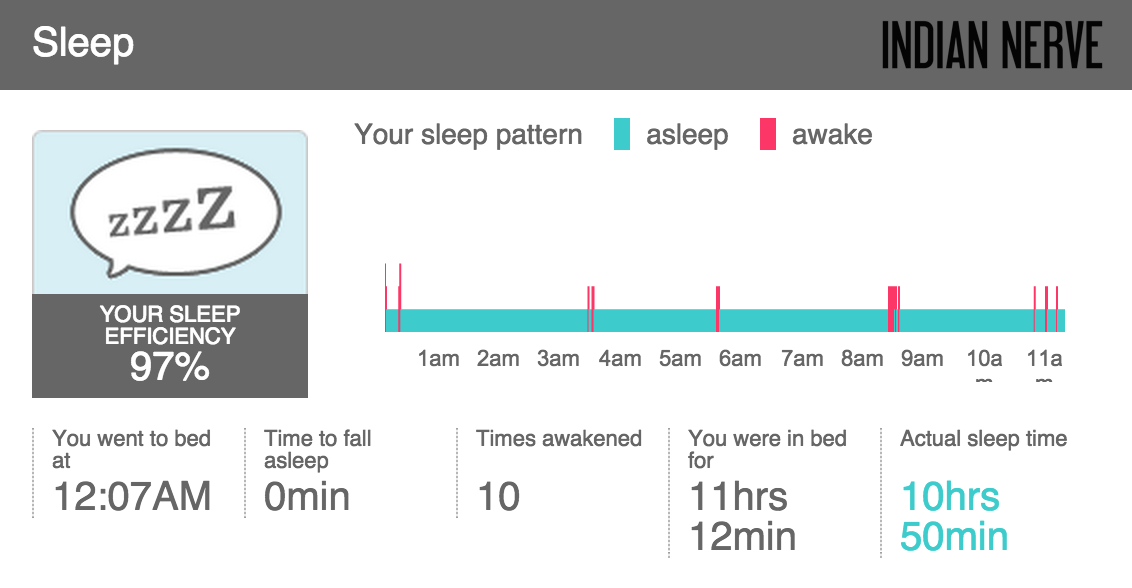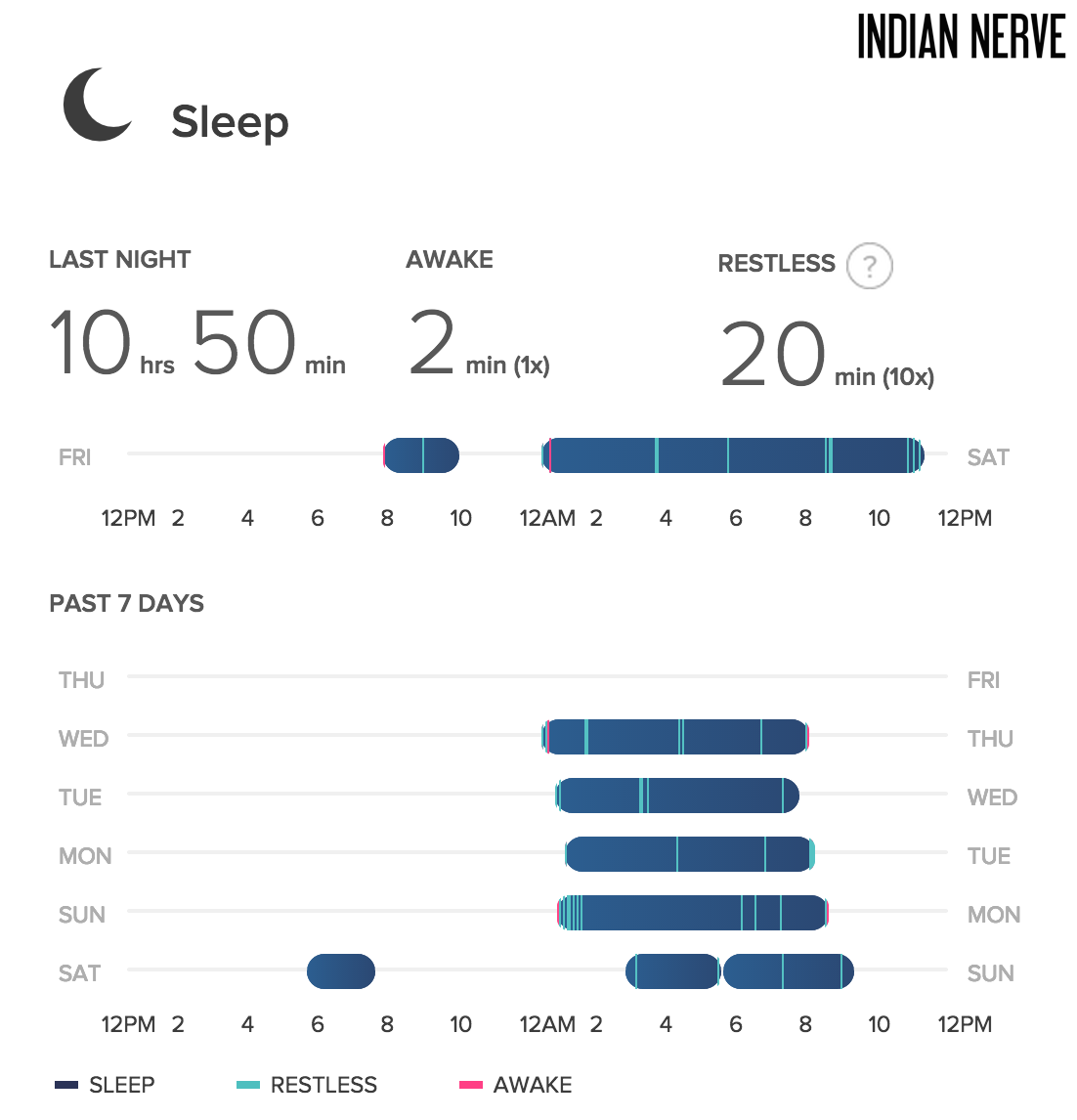 The charge is supposed to run 24/7 and I did wear it all the time for a week and only needed to recharge (2 hours) it again after 7 days of continuous use.
Not Everything is Perfect
The charge does add a lot of usefulness in the consumer's life and is durable, lightweight and has minimalistic design which does look sharp as an accessory too. The metrics reported are fairly accurate but you might see some values wavering off because of following reasons-
The change in atmospheric pressure will also happen if you escalate in a elevator so the 'No of Floors Climbed Data' will sometimes be inaccurate which will also result in over reporting of the calories burned metric.

While riding a bike especially on the Indian Roads which are bumpy ,the built in sensor will get confused between bumps and actual steps and will end up reporting more steps than actually taken.On a average 40 minute ride on "Bengaluru roads", my steps count went up by 1500.

While the call notifications are handy especially while riding or working out.There should've been a way to accept or reject calls.This can be done with an firmware update and requires no hardware changes. I hope some one from

 

Fitbit is reading this .
Thats it, those three are the only shortcomings i found on a overall satisfying product which  will provide a lot of value to a consumer's life unlike the flashy smart watches. So if you are looking forward to quantify your fitness goals and want to become fitter in more planned way, this product is something that you would definitely need.
Fitbit launched officially in India on 3rd of July 2015 and has many of its products on sale. The Fitbit Charge is available at a price of Rs 9,999. The charge HR (heart rate) which has an additional inbuilt optical sensor to measure your pulse is also available at at price of Rs 12,999.
Choose your fitness partner wisely.
The Charge and other Fitbit products are available on both Amazon and Flipkart.