It has been eons since Indian comic book lovers got a decent female superhero who is a not just a sidekick or used as a prop to do the main man's bidding. Only Chandika and Shakti from Raj Comics come to mind when someone utters the words "Indian Superheroine". Both of them were fantastic characters with amazing abilities but they had little impact on the reader; with Shakti being a sob fest and Chandika playing second fiddle to the undisputed champion of Indian comics, Super Commando Dhruva. It was high time the ladies stepped up to the superhero plate and doled out some serious action to the starving fans. Cometh the hour, cometh the Devi!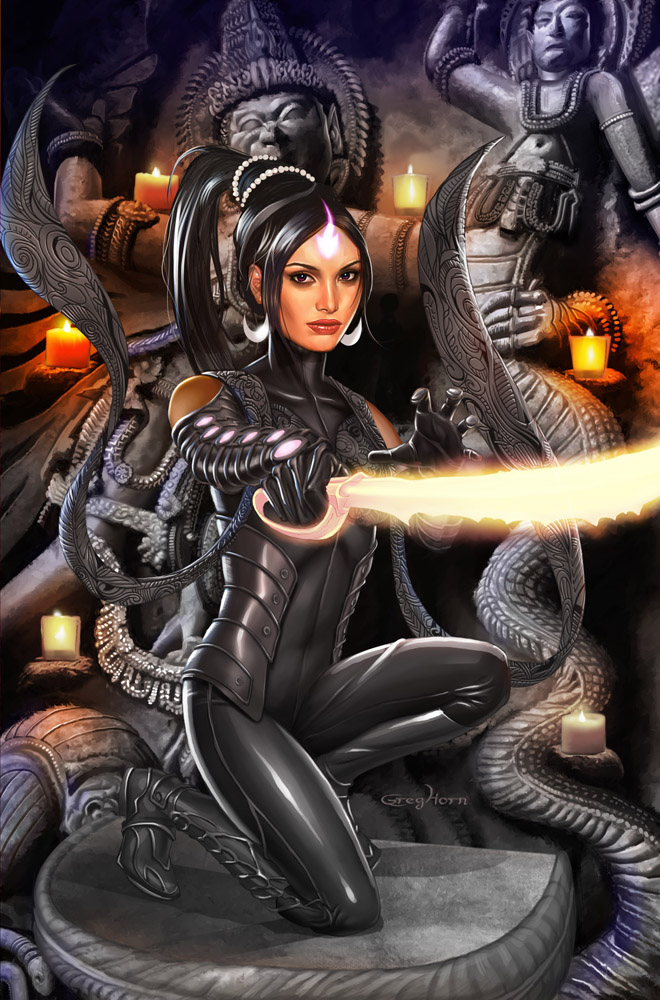 Created by Shekhar Kapur, Devi narrates the story of Tara Mehta, a beautiful unassuming girl who lives in a city called Sitapur in India. Tara is a kind soul who has no idea what the world has in store for her, for she is the chosen vessel of the Gods, a manifestation of their united powers combined to form an entity called DEVI. The need for such a being was necessitated due to the emergence of Lord Bala, a God who defected from the other Gods because of his insatiable appetite for power and destruction. Lord Bala feeds from the servitude of humans and would pull out all the stops to maintain the status quo. The Devi avatar is the only being that has the power to thwart Bala's schemes. She is not immortal, but is reincarnated over time to fight in favour of the Gods. Tara Mehta finds herself in this divine (or diabolical) mess as the story unfolds around her by revealing vicious characters, mystical assassins and occultist groups. The question is whether she fights out of it or succumbs to the whims of the Gods.
This comic book is an honest attempt at creating a superhero that has a unique story and is inherently Indian. It has some very interesting, well defined characters that might have their own back story if explored. Some comparisons can be drawn between Tara Mehta and Sara Pezzini (Witchblade) as both feature women who were chosen for something they didn't sign up for. There is an inspector called Rahul Singh who becomes intrigued by the supernatural surrounding him. His character is one to look out for. Then there's an assassin called Kratha who is a fallen angel and is the antithesis of Devi. Another one is Iyam, a demon himself working for Lord Bala, disguised as the crime lord of Sitapur.
The writers Siddharth Kotian and Samit Basu have introduced exciting possibilities for the comic and it will be interesting to see how all the different characters play out in the whole story. The writing is good and keeps the reader engaged. The artwork is done by Mukesh Singh (18 Days) and it is spectacular, simply stunning. The panels are clean cut rectangles and this gives the book a graphic novel feel to it. There is an introduction by Priyanka Chopra which is more of a review itself but it is good to see a mainstream actress promote comics.
All in all, a great read if you want something fresh and different from the current crop of female heroes. I enjoyed the first volume and it has got me scouring the internet to buy the second one. I just hope this one brings about a wave of new fans and especially those among the female readers. Here is one powerful (and dare I say 'feminist'!) superhero that we can surely be proud about!
Overall Rating: 4/5
You may purchase Devi from Flipkart here: